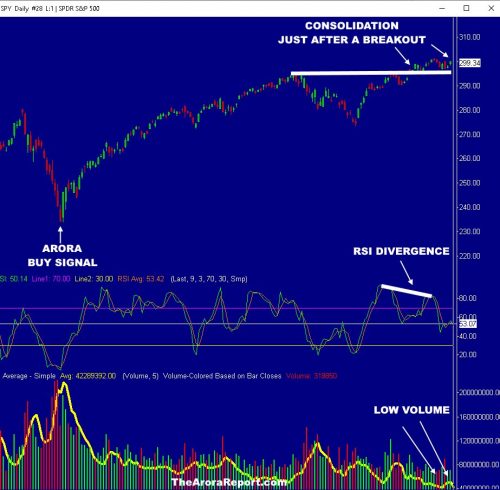 The Justice Department has launched a broad anti-trust investigation into big technology companies.
A chart, below, shows that the probe has the potential to make the current rally precarious. Let's examine the issue with the help of an annotated chart. Please click here for an annotated chart of S&P 500 ETF SPY  which represents the S&P 500 Index SPX.
Please note the following:
• As the chart shows, the stock market is consolidating just above a breakout point. This is not a hallmark of a strong rally. A strong rally would typically move farther after a breakout.
Please click here for an annotated chart of Dow Jones Industrial Average ETF DIA. The chart shows measured targets for the Dow Jones Industrial Average DJIA  to be 29,000 and 32,000 points. For the sake of full transparency, this chart is exactly the same without any changes from the prior publication.
• The chart shows RSI (relative strength index) divergence. This is a negative.
• The chart shows the Arora buy signal given on Christmas Eve, which has turned out to be the low and a good buying opportunity.
• The chart shows the rally is on low volume. This indicates lack of conviction.
• The rally is mainly driven by expectations of a Federal Reserve interest-rate cut and the momo (momentum) crowd. The smart money is, so far, not buying this rally.
• Four stocks that seem to be the target of the DOJ investigation are Big Tech stalwarts Facebook FB, Amazon AMZN,  Apple AAPL and Google holding company Alphabet GOOG,  GOOGL.
• The rally is already precarious. Since the big tech stocks are the market leaders, any negative impact on them has the potential to slow the rally or even kill it….Read more at MarketWatch.
A knowledgeable investor would have turned $100,000 into over $1,000,000 with the help from The Arora Report. NOW YOU TOO CAN ALSO SPECTACULARLY SUCCEED AT MEETING YOUR GOALS WITH THE HELP OF THE ARORA REPORT. You are receiving less than 2% of the content from our paid services. …TO RECEIVE REMAINING 98% INCLUDING MANY ATTRACTIVE INVESTMENT OPPORTUNITIES, TAKE A FREE TRIAL TO PAID SERVICES.
Please click here to take advantage of a FREE  30 day trial.
Check out our enviable performance in both bull and bear markets.
FREE: SUBSCRIBE TO 'GENERATE WEALTH' NEWSLETTER