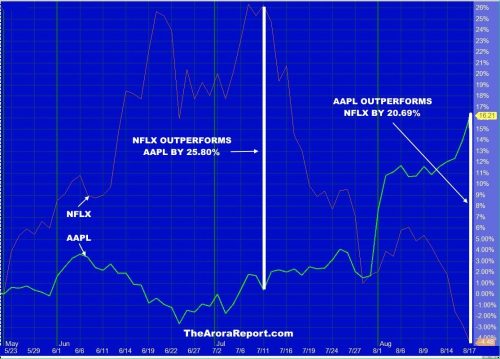 All you have to look at are the comments made by most analysts about two to three weeks ago; it becomes obvious that most were not expecting the strong move in Apple's AAPL  stock.
When I wrote that the next milestone for Apple stock would be $250, the shares were trading at $197.75. Since then the stock has risen by about $20. My call was not met with enthusiasm. Many were expecting the stock to pull back after earnings. Others sold shares on the news that Apple had reached a $1 trillion valuation.
Defensive measures for those who had just bought the stock and had small gains were needed because of a credible report out of China that Apple could become a pawn in the trade war. In spite of that threat, our call for long-term holders has been to continue to hold.
For the sake of full transparency, please click here to see the annotated chart of Apple that was published at the time of the call when Apple stock was trading about $20 lower from the recent high. Our call for a breakout has proven spot-on.
The Dog of the FAANGs
The Dogs of the Dow is a famous strategy.
But these days the market leaders are the FAANG stocks — Facebook FB, Apple, Amazon.com AMZN, Netflix NFLX,   and Google holding company Alphabet GOOG, GOOGL.  I have not heard anybody talk about it, so I might as well coin the phrase "Dog of the FAANGs." Let us explore the merits of the Dog of the FAANGs strategy with the help of a chart.
Chart
Please click here for an annotated chart comparing Apple to Netflix.
• The Dogs of the Dow strategy calls for annually buying the 10 Dow Jones Industrial Average DJIA,  stocks with the highest dividend yields.
• When applied to the FAANGs, this calls for buying Apple. An argument can be made that this line of thinking is flawed and dividends should be ignored in FAANG stocks because they are growth stocks.
• If you buy into the above argument against Apple, simply look at the comparison between Apple's share price and Netflix's share price….Read more at MarketWatch.
A knowledgeable investor would have turned $100,000 into over $1,000,000 with the help from The Arora Report. NOW YOU TOO CAN ALSO SPECTACULARLY SUCCEED AT MEETING YOUR GOALS WITH THE HELP OF THE ARORA REPORT. You are receiving less than 2% of the content from our paid services. …TO RECEIVE REMAINING 98% INCLUDING MANY ATTRACTIVE INVESTMENT OPPORTUNITIES, TAKE A FREE TRIAL TO PAID SERVICES.
Please click here to take advantage of a FREE  30 day trial.
Check out our enviable performance in both bull and bear markets.
FREE: SUBSCRIBE TO 'GENERATE WEALTH' NEWSLETTER