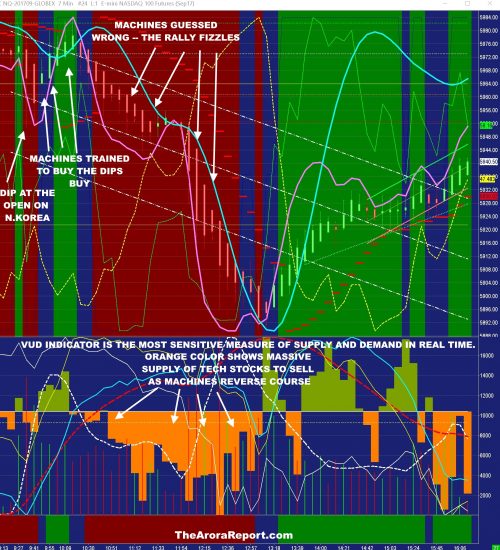 Prudent investors prepare for different scenarios. Right now, the stock market is assuming two things.
First, regarding North Korea, that people in power on all sides are rational. Second, a buy-the-dip mentality will prevail and machines that trade large volumes every day will not make mistakes. To understand that latter scenario, let us look at a very short-term chart and a longer-term chart.
Very short-term chart
Please click here for the very short-term chart of Nasdaq 100 futures NQU7.  Popular Nasdaq 100 ETF QQQ traced a similar chart. I picked the Nasdaq 100 because it contains popular FAANG stocks such as Facebook FB, Apple AAPL,  Amazon AMZN,  Netflix NFLX and Alphabet GOOG,  GOOGL.
The chart shows there was a dip at the open Tuesday, owing to North Korea testing a hydrogen bomb over the weekend. Prior to the open, in the Morning Capsule that is made available to the subscribers to The Arora Report, I wrote the following based on our algorithms: "The momo (momentum) crowd is aggressively buying the slight dip in the pre-market in stocks. The thinking appears to be that N. Korea is simply an irritant and not a big deal. Trump's threat against China is also not being believed. The 'smart money' is inactive."
The chart shows the machines trained to buy the dip joined the momo crowd to buy aggressively, briefly bringing tech stocks to a gain for the day. It turned out that this time, the machines guessed wrong and the rally fizzled.
The VUD indicator shown on the chart is the most sensitive measure of supply and demand in real time. It shows massive selling came in and machines reversed course after first making a mistake. This is shown by the orange color on the chart…Read more at MarketWatch
You are receiving less than 2% of the content from our paid services …TO RECEIVE REMAINING 98%, TAKE A FREE TRIAL TO PAID SERVICES.
Please click here to take advantage of a FREE  30 day trial.
Check out our enviable performance in both bull and bear markets.
FREE: SUBSCRIBE TO 'GENERATE WEALTH' NEWSLETTER