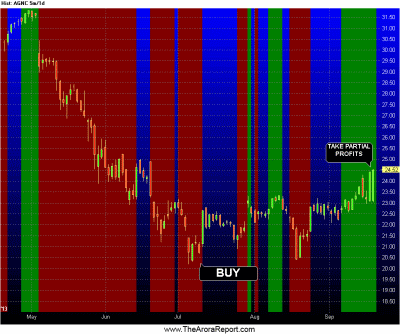 Going into Wednesday's Federal Open Market Committee (FOMC) policy statement, there was almost universal opinion that the Fed would taper. However, generally speaking, markets almost always have diverging opinions. In my 30 years in the markets, I have never seen such uniformity of opinion with as few dissenters as there were leading into this FOMC meeting.
The Fed surprised the markets by not tapering. Stocks, bonds, gold, silver, and other commodities soared. The action of the markets confirms that the Fed's decision to not taper was a big surprise.
Two questions arise for investors here. First, how good are gurus' opinions? Second, how does one make money when a vast majority of the gurus can be so wrong?
My analysis of the whole fiasco is that interest rates rose more sharply and more quickly prior to the FOMC meeting than the Fed had anticipated when it started talking about the taper. Housing, a linchpin of the Fed's plan has been hit hard; a chart of mortgage REIT American Capital Agency AGNC   illustrates the point.
For the chart, please click here.
Now the situation is like a dog chasing his tail. The Fed dare not taper because markets will go down, and markets do not go down because the Fed is not tapering.
Here are the most pertinent excerpts from the FOMC policy statement.
"Household spending and business fixed investment advanced, and the housing sector has been strengthening, but mortgage rates have risen further and fiscal policy is restraining economic growth. Apart from fluctuations due to changes in energy prices, inflation has been running below the Committee's longer-run objective, but longer-term inflation expectations have remained stable…Read more at MarketWatch
FREE: SUBSCRIBE TO 'GENERATE WEALTH' NEWSLETTER