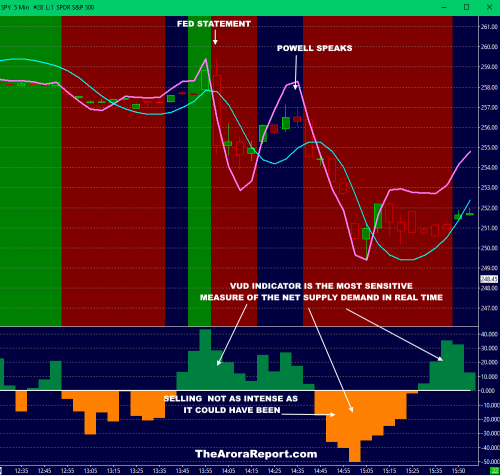 Federal Reserve Chairman Jerome Powell is being universally criticized for what he had to say in the press conference after the release of the central bank's policy statement. The stock market is giving Powell the thumbs down. But could he be smarter than the rest of the gurus? Let's explore with the help of a chart.
Chart
Please click here for an annotated chart of S&P 500 ETF SPY.  Similar conclusions can be drawn from the charts of the Dow Jones Industrial Average DJIA, Nasdaq 100 ETF QQQ and small-cap ETF IWM. Please note the following from the chart:
• The market fell on the release of the Fed statement.
• The market was in the process of recovering going into the press conference.
• The market fell on what Powell said in the press conference.
• The VUD indicator is the most sensitive measure of net supply/demand in real time. The VUD indicator shows that the selling was not as intense as it could have been.
• The VUD indicator also shows that at the end of the day there was net buying demand, even though the price did not recover.
• Not shown on the chart is an important factor: The dollar has been slightly weaker. If critics of Powell are right, the dollar should have been stronger.
• Looking at individual charts of popular stocks, the VUD indicator shows that selling was intense in stocks such as Apple AAPL, Amazon AMZN, Netflix NFLX and Nvidia NVDA.
• The selling in popular stocks such as Facebook FB, Micron Technology MU, AMD AMD and Johnson & Johnson JNJ should be disregarded because that was primarily driven by individual company news.
Powell's message
Here is how Powell threw red meat to the bears.
• The market wanted no rate hike or, at most, one rate hike in 2019. Powell talked about two rate hikes in 2019.
• The market wanted some accommodation regarding the Fed's massive balance sheet. Powell stayed firm on the current course of unwinding.
• The market wanted some empathy for the decline in the stock market. Powell showed none….Read more at MarketWatch.
A knowledgeable investor would have turned $100,000 into over $1,000,000 with the help from The Arora Report. NOW YOU TOO CAN ALSO SPECTACULARLY SUCCEED AT MEETING YOUR GOALS WITH THE HELP OF THE ARORA REPORT. You are receiving less than 2% of the content from our paid services. …TO RECEIVE REMAINING 98% INCLUDING MANY ATTRACTIVE INVESTMENT OPPORTUNITIES, TAKE A FREE TRIAL TO PAID SERVICES.
Please click here to take advantage of a FREE  30 day trial.
Check out our enviable performance in both bull and bear markets.
FREE: SUBSCRIBE TO 'GENERATE WEALTH' NEWSLETTER