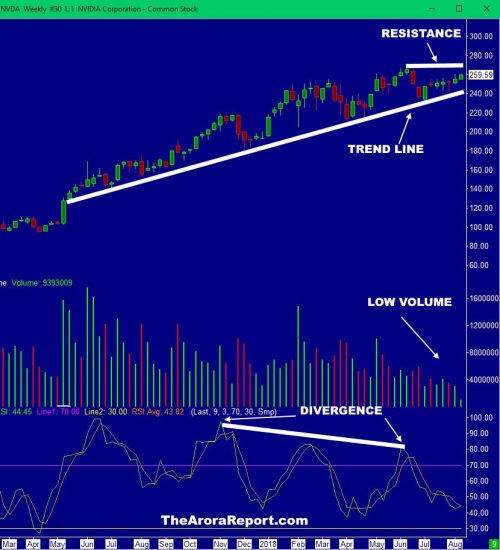 U.S. chip company Nvidia is making a bold claim that it has accomplished the greatest leap since the invention of the CUDA GPU more than a decade ago.
There is positive sentiment developing around Nvidia's NVDA,  stock. After all, Nvidia claims to be combining artificial intelligence, real-time ray tracing, simulation and rasterization. To top it off, there is a catchy name: Nvidia Turing GPU architecture.
Will the technological leap from Nvidia make the stock leap? Let's explore with a chart.
Chart
Please click here for the annotated chart of Nvidia. Please note the following from the chart:
• The chart shows that Nvidia stock has been rising, supported by a trend line.
• The chart shows the resistance from which the price will have to decisively break for the stock to leap.
• If the stock breaks the trend line shown on the chart, there is significant downside.
• The chart shows that lately the volume is low. This indicates that investors are waiting for the next trigger to drive the stock either higher or lower.
• The relative strength index (RSI) shows negative divergence. In plain English, this means that even though the stock price has risen, the momentum has waned. In traditional technical analysis, this is considered negative. However, in my decades of experience, this is not necessarily a negative in top-performing stocks.
Quarterly lag
Nvidia bulls are getting excited about the introduction of ray tracing. However, they may want to temper their enthusiasm because the new GPUs will not be available before the fourth quarter and may not materially impact earnings for a while.
Expensive stock
Nvidia is an expensive stock, along with AMD's AMD stock. Nvidia trades at a trailing price-to-earnings (P/E) ratio of 42 and a forward P/E of 32. If growth slows, what will happen to those lofty numbers? We just have to look at Intel's INTC  stock. Intel trades at trailing P/E of 17 and a forward P/E of 11…Read more at MarketWatch.
A knowledgeable investor would have turned $100,000 into over $1,000,000 with the help from The Arora Report. NOW YOU TOO CAN ALSO SPECTACULARLY SUCCEED AT MEETING YOUR GOALS WITH THE HELP OF THE ARORA REPORT. You are receiving less than 2% of the content from our paid services. …TO RECEIVE REMAINING 98% INCLUDING MANY ATTRACTIVE INVESTMENT OPPORTUNITIES, TAKE A FREE TRIAL TO PAID SERVICES.
Please click here to take advantage of a FREE  30 day trial.
Check out our enviable performance in both bull and bear markets.
FREE: SUBSCRIBE TO 'GENERATE WEALTH' NEWSLETTER