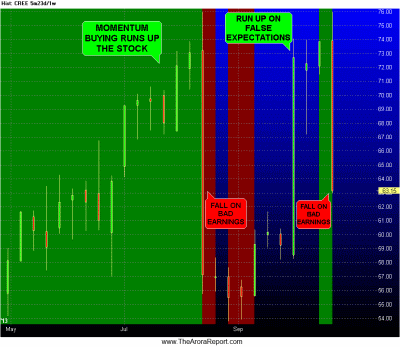 In my 30 years in the markets, I have seen many investors who make tons of money trading pure momentum only to lose more than they made in the first place. The irony is that many such investors repeat this cycle again and again.
The reason many investors go through this cycle is that they believe the next time will be different; they won't lose their gains. Unfortunately, for all but the most skilled traders, pure momentum trading is a slippery slope.
Let me illustrate the point with the action Tuesday in two momentum darlings, Cree CREE  and Netflix NFLX.
Take a look at a Cree daily chart.
Please click here to see the annotated chart of Cree.
The chart shows that momentum investors ran up the stock in the summer based on their hopes for LED bulbs that Cree makes. The fire of momentum was stoked by many sell-side analysts who were supposedly able to do sophisticated research and analysis. It was puzzling to me because my channel checks and research did not support the enthusiasm.
Then Cree reported earnings below the whisper numbers, and in one week, the stock fell from $76 to under $56. As the stock was marching down to its fair value, momentum investors stirred up by false expectations from analysts ran up the stock to the prior high again. The chart shows a big fall Tuesday in after-hours trading when Cree issued an earnings report that was far below the whisper numbers. Whisper numbers are not the published numbers of analysts, but private expectations of some analysts that they share only with their favorite clients. The big issue was that for the next quarter, Cree sees earnings per share of $0.36-$0.41 compared to consensus estimate of $0.44 and whisper numbers of over $0.50….Read more at MarketWatch
FREE: SUBSCRIBE TO 'GENERATE WEALTH' NEWSLETTER