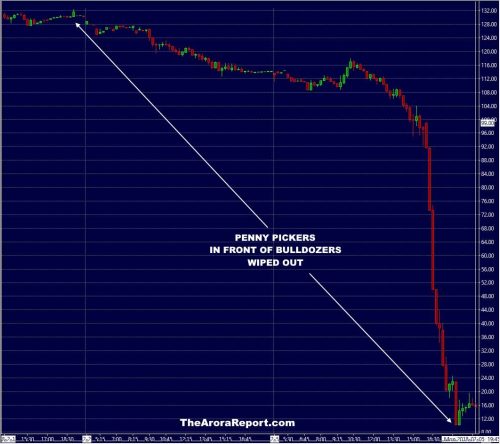 Rising interest rates, the specter of inflation and stocks' overvaluation are all valid, fundamental concerns facing investors today.
But is that the full story?
Before the start of the swoon Friday, nine of the 10 categories of inputs to The Arora Report Global Multi Asset Allocation Model were deteriorating. This is the reason we reiterated to subscribers to hold 19%-29% in cash or Treasury bills, short- to medium-term hedges of 15%-25% and very short-term hedges of 15%. That way, those who wanted to take less risk and were hedging were protecting 69% of their portfolio.
Those who did not hedge did not have as much protection but should have been holding cash more than 29%. Please read on to see what The Arora Report Model is saying now.
The real reason behind the ferocity of selling is not the fundamentals but the so-called penny pickers. These are no ordinary penny pickers; they have been getting rich jumping in front of moving bulldozers to pick pennies. Yesterday they died, but in the process hurt good investors who were following the rules. Let us explore with a chart.
The chart
Please click here for the chart. The chart is of Velocity Shares Daily Inverse VIX Short-Term ETN XIV, sponsored by Credit Suisse. Similar chart patterns show up in ProShares Short VIX Short-Term Futures SVXY.
The Chicago Board Options Exchange popularized the VIX VIX,  VIX measures volatility expectations from S&P 500 SPX,  index options. There have been a number of exchange traded note (ETN) products related to VIX that are useful in hedging, such as VXX,  and VXZ.  A favorite of day traders has been a leveraged product, UVXY.
Since the Trump election, volatility has been extraordinarily low. Just take a look at the chart of the popular ETFs S&P 500 ETF SPY,  Nasdaq 100 ETF QQQ,  DJIA ETF DIA,  and small-cap ETF IWM. Without understanding that such low volatility is not normal, making money by shorting volatility had become a popular trade.
I have always advocated hedging carefully with long volatility products (carefully because they decay and have tracking errors). But I have been cautioning against extensively using inverse volatility products…Read more at MarketWatch
A knowledgeable investor would have turned $100,000 into over $1,000,000 with the help from The Arora Report. NOW YOU TOO CAN ALSO SPECTACULARLY SUCCEED AT MEETING YOUR GOALS WITH THE HELP OF THE ARORA REPORT. You are receiving less than 2% of the content from our paid services. …TO RECEIVE REMAINING 98% INCLUDING MANY ATTRACTIVE INVESTMENT OPPORTUNITIES, TAKE A FREE TRIAL TO PAID SERVICES.
Please click here to take advantage of a FREE  30 day trial.
Check out our enviable performance in both bull and bear markets.
FREE: SUBSCRIBE TO 'GENERATE WEALTH' NEWSLETTER