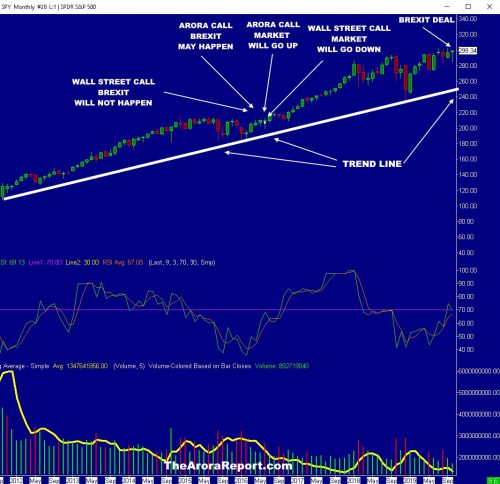 Many investors are getting excited about the Brexit deal.
Some excitement is warranted because it took years of wrangling for the U.K. and the European Union to reach a deal at the last minute. However, all is not clear. Northern Ireland's Democratic Unionist Party does not support the deal. The opposition Labour Party is calling for the agreement to be rejected. As of this writing, there is no guarantee that the deal will be approved by the U.K. Parliament.
Investors ought to know the most important thing about Brexit.
To find out, please click here for an annotated chart of S&P 500 ETF SPY.
Note the following:
• The chart shows the trend line for the U.S. stock market.
• The chart shows the Arora call that Brexit might happen. This call came at a time when Wall Street consensus was that Brexit would not happen.
• Wall Street was proven wrong when U.K. residents voted for Brexit.
• Wall Street's call was that stocks would fall. The Arora Report's call was that stocks would rise and the dip was a buying opportunity.
• The European Union is the largest trading partner for the U.K. In 2017, 53% of all U.K. imports were from the EU and 44% of all U.K. exports went to the EU.
• The U.K. is a big trading nation. But investors ought to have the perspective that the U.K. is no longer the giant it once was in terms of its economic impact on the world. The United States' gross domestic product (GDP) is about $21 trillion, China's GDP is about $15 trillion and the U.K.'s is about $3 trillion. Still, London is the center of international banking.
The all-important trend line
The most important point for investors is the trend line shown on the chart. The stock market did not fall below the trend line when Brexit was first announced. During all the wrangling over the years, the stock market did not fall due to Brexit issues. Now, isn't it unreasonable to assume that the stock market would rise because of the Brexit deal?
The Brexit deal is positive and certainly creates positive sentiment. However, in the end, it is not material for most investors….Read more at MarketWatch.
A knowledgeable investor would have turned $100,000 into over $1,000,000 with the help from The Arora Report. NOW YOU TOO CAN ALSO SPECTACULARLY SUCCEED AT MEETING YOUR GOALS WITH THE HELP OF THE ARORA REPORT. You are receiving less than 2% of the content from our paid services. …TO RECEIVE REMAINING 98% INCLUDING MANY ATTRACTIVE INVESTMENT OPPORTUNITIES, TAKE A FREE TRIAL TO PAID SERVICES.
Please click here to take advantage of a FREE  30 day trial.
Check out our enviable performance in both bull and bear markets.
FREE: SUBSCRIBE TO 'GENERATE WEALTH' NEWSLETTER