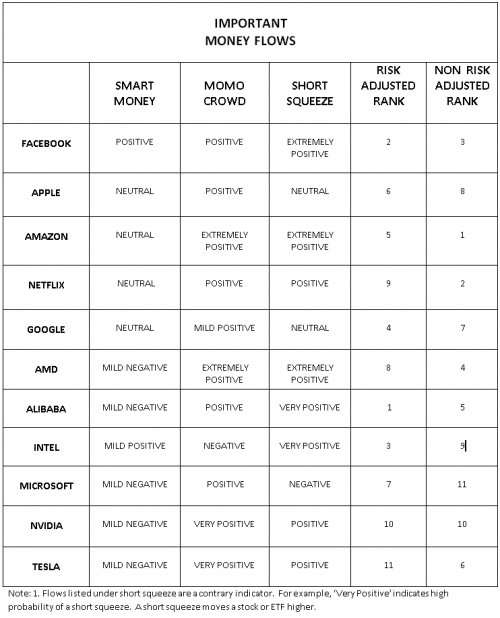 Money flows give an edge to those who want to beat the market and lower their risk. There's a big move right now in large-cap technology stocks brought about by President Trump's trade agitations.
Consider looking at money flows in those stocks, in addition to the Dow Jones Industrial Average DJIA, SPDR S&P 500 ETF SPY, and Invesco Nasdaq 100 ETF QQQ.  Let's examine segmented money flows in technology stocks with the help of a chart.
The chart
Please click here for a chart showing segmented money flows in 11 popular technology stocks. Please note the following from the chart:
• Smart money flows have gone from overall very positive to neutral in a short period of time. For previously published money flows on MarketWatch, please see "Money flows in 11 popular tech stocks suggest a contrarian signal is coming up."
• There are reports President Trump has assured Apple AAPL,   that there will be no tariffs on Apple iPhone imports. However, smart money (professional investors) flow in Apple has turned to neutral from mildly positive. Momo (momentum) crowd money flow is still positive in Apple.
• Smart money flow in Alibaba BABA, has turned mildly negative from positive. Smart money flow on Amazon.com AMZN,   has also turned neutral from mildly positive.
• Smart money flow on Facebook FB,   remains positive. Facebook does not have a presence in China.
• Smart money flows in Netflix NFLX, and Google GOOG, GOOGL,   are now neutral from mildly positive.
• AMD AMD,    stock has been running up. Momo crowd money flow is extremely positive in AMD. However, the smart money flow has turned negative. This indicates there is a high risk in holding AMD. As full disclosure, The Arora Report gave a signal to buy AMD at $10.95 right near the bottom of the current "up" leg. At the time of buying AMD, The Arora Report gave $15.33 as the top end of the target zone for a short-term trade. We have now taken profits.
• It is important to distinguish between short-term trades and long-term positions. The Arora Report gave a buy signal on Intel INTC, at $34.01 for a long-term position. Since then, Intel reached over $57 and then pulled back. Since this is a long-term position, it is still being held. The smart money flow on Intel is mildly positive. However, momo crowd money flow in Intel has turned negative. While the core quantity in Intel is being held, additional profits have been taken by trading around the core position. Investors can significantly add to their returns by using the technique of trading around positions. We provide complete guidance to our subscribers on how to do that….Read more at MarketWatch.
A knowledgeable investor would have turned $100,000 into over $1,000,000 with the help from The Arora Report. NOW YOU TOO CAN ALSO SPECTACULARLY SUCCEED AT MEETING YOUR GOALS WITH THE HELP OF THE ARORA REPORT. You are receiving less than 2% of the content from our paid services. …TO RECEIVE REMAINING 98% INCLUDING MANY ATTRACTIVE INVESTMENT OPPORTUNITIES, TAKE A FREE TRIAL TO PAID SERVICES.
Please click here to take advantage of a FREE  30 day trial.
Check out our enviable performance in both bull and bear markets.
FREE: SUBSCRIBE TO 'GENERATE WEALTH' NEWSLETTER