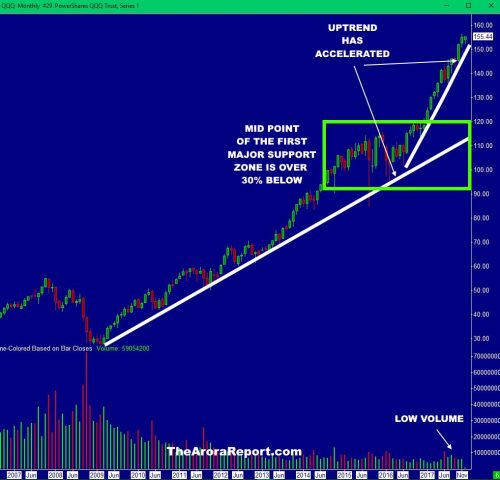 U.S. stocks are sky high in this bull market, but they could fade fast.
President Trump, in a remark over the weekend, was reported to have said:
"One great gentleman came up and he said, 'Sir, I want to thank you.' I said, 'What did I do for you?' He said, 'My 401(k) is up 40%.' And I never thought it! You know, I tell you, he gave me one of the great campaign lines. It's called 'How is your 401(k) doing?' "
How did the investor score a 40% gain, and in which time period? It doesn't matter. What matters is this: Will investors, say, gain another 40% or lose 40%? Euphoria is high, which is why this market is risky.
Let's explore the issue, starting with a long-term chart covering this entire bull market.
Chart
Please click here for an annotated chart of the Nasdaq 100 ETF QQQ,  I picked QQQ over S&P 500 ETF SPY,  or Dow Jones Industrial Average DJIA,  for two reasons. The first is performance. The second is that QQQ has a heavy weighting of popular tech stocks such as Apple AAPL,  Amazon AMZN,  Facebook FB,  Google GOOG,  GOOGL,  Nvidia NVDA, and Intel INTC.
Please note the following from the chart.
• The uptrend is accelerating. Take a look at the difference in slope of the two trend lines drawn on the chart. This is often a hallmark of more gains to come.
• Volume is low during this rally. This indicates that there is high risk.
You are receiving less than 2% of the content from our paid services …TO RECEIVE REMAINING 98%, TAKE A FREE TRIAL TO PAID SERVICES.
Please click here to take advantage of a FREE  30 day trial.
Check out our enviable performance in both bull and bear markets.
FREE: SUBSCRIBE TO 'GENERATE WEALTH' NEWSLETTER