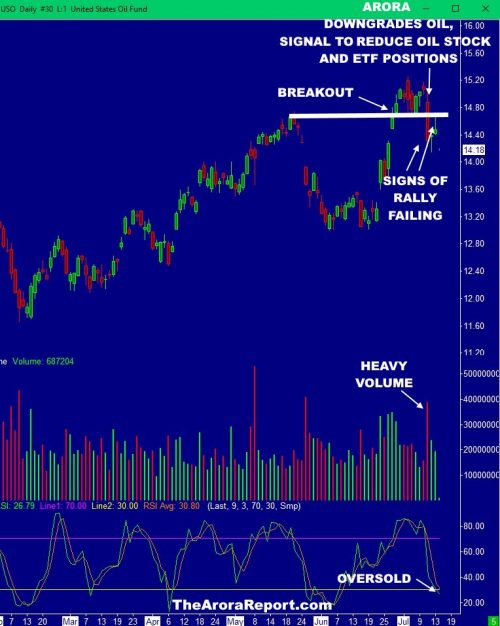 President Trump has said gasoline prices are too high. He asked Saudi Arabia to increase its oil output by two million barrels. People who understand the industry immediately said there was no way the Saudis would raise its output because that would lower prices and profits.
Now the news is that Saudi Arabia is offering extra oil to some Asian customers. You don't have to be a genius to infer that Saudi Arabia is indirectly complying with Trump's request. In addition, with some help from Russia, Trump may succeed at lowering gasoline prices. Let's examine the issue with a chart.
Chart
Please click here for a chart of oil ETF USO.  The USO chart is being used instead of oil futures CLQ8, because most investors do not trade futures. Oil ETFs such as Velocity Shares 3x Long Crude Oil UWT, Velocity Shares 3x Inverse Crude Oil DWT, and ProShares Ultra Bloomberg Crude Oil UCO, are popular, but it is better to use USO for analysis because it is not leveraged and is highly liquid. Please note the following from the chart:
• The chart shows the recent oil breakout.
• The chart shows the downgrade of oil by The Arora Report. The Arora Report ratings on oil and other indicators on oil are widely followed.
• The chart shows the signs of an oil rally failing.
• The chart shows oil fell below the support on heavy volume.
• The relative strength index (RSI) shows that oil is oversold and a short-term rally can ensue.
Ask Arora: Nigam Arora answers your questions about investing in stocks, ETFs, bonds, gold and silver, oil and currencies. Have a question? Send it to Nigam Arora.
Oil ratings and indicators
Here are our current ratings on oil.
Short-term: Mild negative.
Medium-term: Neutral.
Long-term: Neutral.
Very long-term: Negative.
The Arora Report follows a large number of indicators on oil; here are the main ones….Read more at MarketWatch.
A knowledgeable investor would have turned $100,000 into over $1,000,000 with the help from The Arora Report. NOW YOU TOO CAN ALSO SPECTACULARLY SUCCEED AT MEETING YOUR GOALS WITH THE HELP OF THE ARORA REPORT. You are receiving less than 2% of the content from our paid services. …TO RECEIVE REMAINING 98% INCLUDING MANY ATTRACTIVE INVESTMENT OPPORTUNITIES, TAKE A FREE TRIAL TO PAID SERVICES.
Please click here to take advantage of a FREE  30 day trial.
Check out our enviable performance in both bull and bear markets.
FREE: SUBSCRIBE TO 'GENERATE WEALTH' NEWSLETTER