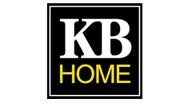 This post was just published on ZYX Buy Change Alert.
KBH is a major home builder.  The company reported better than expected earnings of $0.42 vs. $0.39 consensus.  However revenues of $913 million were below $944 million consensus.  Average selling price rose by 2% to $365,900.
Over all the tone coming out of the company is positive.
The stock is trading higher by 4.29% at $15.54.  This is a welcome relief after earnings from competitor LEN made the entire home building sector trade lower yesterday.  Home builder ETFs XHB and ITB as well as stocks such as TOL, LEN, PHM, and CAA traded lower yesterday.  All of these are bouncing now.
Of special note is the 32% short interest in the stock.  High short interest can lead to short squeezes.
Consider initiating or adding on a pull back up to 25% of the full core position size in the new buy zone of $12.31 to $13.66.
This is a very long-term position, temporarily no stops.  Very long-term target zone is $24 to $28.
If housing sales pick up, this company is likely to benefit more than other home builders.  It is also a prime buyout target.
Caution: consider not exceeding 65% of the full core position size for the total position size.
You are receiving less than 2% of the content from our paid services …TO RECEIVE REMAINING 98%, TAKE A FREE TRIAL TO PAID SERVICES.
Please click here to take advantage of a FREE  30 day trial.
Check out our enviable performance in both bull and bear markets.
FREE: SUBSCRIBE TO 'GENERATE WEALTH' NEWSLETTER