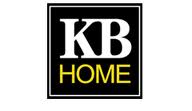 This post was just published on ZYX Buy Change Alert.
KBH Reports Q3 (Aug) earnings of $0.28 per share, excluding a $0.7 mln non-recurring items, $0.07 better than the consensus estimate of $0.21; revenues rose 29.3% year/year to $549 mln vs the $570.37 mln consensus, with YoY rev growth in each of the Company's homebuilding regions exceeding 25%.
Homes delivered increased 6% from the third quarter of 2012 to 1,825 homes, representing the eighth consecutive quarter of YoY growth. The overall average selling price grew to $299,100, up $54,000 or 22% from the year-earlier quarter, extending the trend of year-over-year improvement to 13 consecutive quarters. The higher average selling price reflected the Company's strategic repositioning initiatives and its continued emphasis on pricing discipline to drive profitability. KBH's adj. housing gross profit margin expanded by 500 bps to 19.3% for the current quarter from 14.3% for the year-earlier quarter.  Reflecting its emphasis on margin expansion and value creation over sales pace, the Company generated 1,736 net orders in the third quarter of 2013, compared to 1,900 net orders in the year-earlier quarter. The third quarter cancellation rate as a percentage of gross orders was 33% in 2013, compared to 29% in 2012. As a percentage of beginning backlog, the third quarter cancellation rate was 27% in 2013 and 26% in 2012. The overall value of 2013 third quarter net orders was $528.9 million, up 7% from $493.3 million in the year-earlier quarter. Three of the Company's four homebuilding regions generated a year-over-year increase in net order value, ranging from 18% in its Central region to 37% in its Southeast region. Potential future housing revenues in backlog at August 31, 2013 increased to $808.5 million, up 9% from $744.7 million at August 31, 2012. The number of homes in the Company's backlog was 3,039 at August 31, 2013 and 3,142 at August 31, 2012. The 3% decrease primarily reflected a 9% year-over-year decline in the Company's third quarter net orders.
What To Do Now?
Those in the position may continue to hold.
Those not in the position may initiate a 10% tranche in the zone of $16.20 to $17.00.
FREE: SUBSCRIBE TO 'GENERATE WEALTH' NEWSLETTER