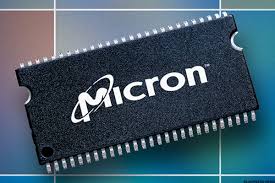 This post was just published on ZYX Buy Change Alert.
Micron (MU) is long from $21.77.  It is trading at $59.76 as of this writing.
Micron is a maker of DRAM and NAND semiconductor memories.  Upcoming 5G phones and other 5G projects are significantly increasing demand for memory.  This is positive for both Micron and Western Digital (WDC).  Western Digital is primarily a disk drive manufacturer but got into NAND business when it bought Sandisk.
This market is controlled by the momo crowd.    The momo crowd money flows  are extremely positive in MU.  Smart money flows are neutral.
Zones
Raising the first target zone for MU to $78 to $83.   MU is a favorite of the momo crowd. The momo crowd can easily run this stock over $100 assuming the semiconductor sector stays in favor like it is now.  The point is that investors should not be in a hurry to completely exit this stock even if it reaches the first target zone.
MU is technically very overbought and vulnerable to a pullback.  For this reason, the Buy Now rating for those following the Good Way is 'NO'.
For those following the Best Way, the buy zone is $46 to $52.88, preferable below $50.
Those new to the stock may want to note that this is a very volatile stock and can trade in a wide range.
Maximum recommended quantity for a long term position is 25% of full core position size.
It may be prudent to keep the core quantity low and start Trade Around positions.  Please see Trade Management Guidelines to learn about Trade Around positions.  All investors should use the technique of Trade Around positions as this technique can often double the returns and significantly reduce the risks.
What To Do Now
Those in the stock may consider continuing to hold.
Those not in the stock may follow the parameters given above.
A knowledgeable investor would have turned $100,000 into over $1,000,000 with the help from The Arora Report. NOW YOU TOO CAN ALSO SPECTACULARLY SUCCEED AT MEETING YOUR GOALS WITH THE HELP OF THE ARORA REPORT. You are receiving less than 2% of the content from our paid services. …TO RECEIVE REMAINING 98% INCLUDING MANY ATTRACTIVE INVESTMENT OPPORTUNITIES, TAKE A FREE TRIAL TO PAID SERVICES.
Please click here to take advantage of a FREE  30 day trial.
Check out our enviable performance in both bull and bear markets.
FREE: SUBSCRIBE TO 'GENERATE WEALTH' NEWSLETTER