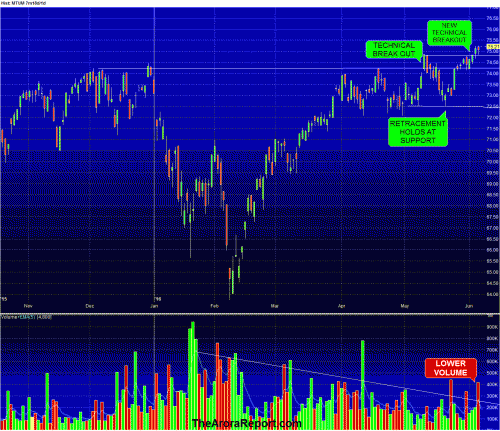 Whether you believe in technical analysis or not, technicals are worth paying attention to simply because so many other investors do. Most institutional investors claim to be fundamentalists, however, in my over 30 years in the markets, I have found that a large number of institutional investors are closet technicians. Right now, the technical setup is such that we could see a nice move higher, and we need to identify the best way to potentially take advantage.
Buying by technically oriented investors often becomes a self-fulfilling prophecy. These days, machines running algorithms are a big part of the volume. Machines often tend to jump on whichever side seems to be winning, thus exaggerating the move.
To participate in the upside, an investor can buy broad-based ETFs such as SPDR S&P 500 SPY,  PowerShares QQQ Trust Series 1 QQQ, and Russell 2000 IWM. In the alternate, an investor can buy momentum stocks such as Amazon AMZN, Facebook FB, Electronic Arts EA, NVIDIA Corporation NVDA, and Applied Materials AMAT.
The better way is to buy the ETF iShares MSCI Momentum ETF MTUM. Let us start by looking at an annotated chart.
Please click here for the annotated chart of MTUM.
Please observe the following from the chart:  ….Read more at MarketWatch
You are receiving less than 2% of the content from our paid services …TO RECEIVE REMAINING 98%, TAKE A FREE TRIAL TO PAID SERVICES.
Please click here to take advantage of a FREE  30 day trial.
Check out our enviable performance in both bull and bear markets.
FREE: SUBSCRIBE TO 'GENERATE WEALTH' NEWSLETTER