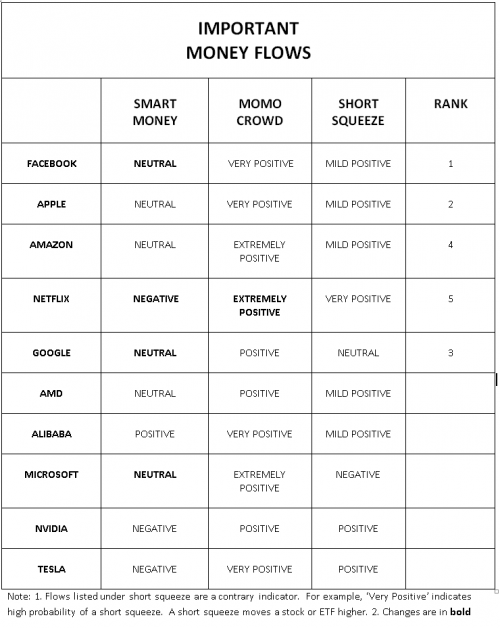 Many prudent investors are asking: "Who is buying popular tech stocks at such high prices?"
The answer to the question will provide you with an edge in the stock market. Let's explore that.
Gain an edge
Please click here for a chart of money flows in FAANG stocks. Money flows, when properly segmented, provide an edge. The FAANG stocks are Facebook FB,  Apple AAPL, Amazon AMZN,  Netflix NFLX,  and Alphabet GOOG,  GOOGL. The table also provides money flows for popular stocks AMD AMD,  Microsoft MSFT,  Nvidia NVDA,  Tesla TSLA, and Alibaba BABA. Please see "This is the one stock to buy if the stock market crashes."
A valuable technique for investors is to look at money flows instead of only volume. This is a good way to gain an edge in the markets. At The Arora Report, we focus on three kinds of money flows that have proven to provide the most predictive power. The three important money flows are the following:
• smart money (pro investors)
• momo (momentum)
• short squeeze
The table breaks down the money flows by the foregoing categories. The table also ranks FAANG stocks based on the ZYX Change Method.
The answer
The answer from the analysis of the data in the table linked above is that, at this time, popular tech stocks are being driven by the momo crowd; the "smart money" is not buying them as a group…Read more at MarketWatch
You are receiving less than 2% of the content from our paid services …TO RECEIVE REMAINING 98%, TAKE A FREE TRIAL TO PAID SERVICES.
Please click here to take advantage of a FREE  30 day trial.
Check out our enviable performance in both bull and bear markets.
FREE: SUBSCRIBE TO 'GENERATE WEALTH' NEWSLETTER