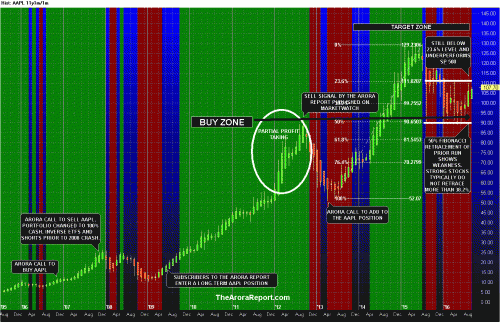 On Wednesday, Apple AAPL  introduced the iPhone 7. As expected, the phone comes with a better processor, a better camera and removal of the headphone jack.
More notable is the introduction of the second-generation Apple Watch. The new killer app on Apple Watch is Pokemon Go from Niantic, co-owned by Nintendo NTDOY.  There have been over 500 million downloads of Pokemon Go on iPhones and Google GOOGL  Android.
Apple also announced in partnership with Nike NKE,   a special edition of the watch. Fitbit FIT,  stock was weaker after the introduction of the new Apple Watch, indicating that the initial market reception is positive for Apple. The company also announced real-time collaboration in iWork, competitor to Microsoft Office MSFT.
Where is Apple stock heading after all of these announcements? Let us explore technicals, five stages and fundamentals.
Technicals
Historically, Apple stock runs up about 4% into iPhone announcement and then retreats over the coming days. The long-term investor may not care about these very short-term zigzags and may want to take a look at the annotated monthly chart.
Click here for the annotated monthly chart of Apple.
The following are three observations from the chart.
After the prior big run, Apple retraced 50% of the gain as shown on the chart. This is a sign of weakness. Strong stocks often do not retrace more than 38.2% Fibonacci level.
In spite of the latest run into iPhone 7 announcement, the stock is still below 23.6% Fibonacci retracement level…Read more at MarketWatch.
You are receiving less than 2% of the content from our paid services …TO RECEIVE REMAINING 98%, TAKE A FREE TRIAL TO PAID SERVICES.
Please click here to take advantage of a FREE  30 day trial.
Check out our enviable performance in both bull and bear markets.
FREE: SUBSCRIBE TO 'GENERATE WEALTH' NEWSLETTER