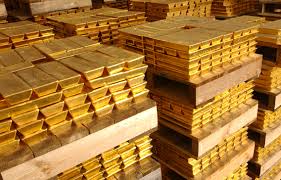 The set-up for gold and silver to be slaughtered was perfect yesterday.  There have been considerable outflows from popular ETFs like SPDR Gold Shares (GLD), iShares Silver Trust (SLV), Market Vectors Gold Miners (GDX), and Market Vectors Junior Gold Miners GDXJ.
The selling today was quite different from the typical patterns over the last two years. A vast majority of the time over the last two years, aggressive selling did not original from Asia or Europe but from North America.  Today has been very different in that the selling originated early on in Europe. This selling may have something to do with Cyprus' decision to sell its gold reserves.  As part of its bailout package, Cyprus is required to sell gold that is estimated to be worth around 400 million euros.  The selling in Europe may have also been due to whiffs of deflation in new economic data.
At 8:30 a.m., the U.S. Producer Price Index (PPI) was released.  PPI is considered a leading indicator because the theory is that producer prices eventually see their way to consumer prices.  March PPI month over month declined 0.6% vs. 0.1%.  It appears that less informed market players who trade on headlines without fully understanding the data in the U.S. added to the selling pressure in precious metals; this is evident from the trading data. A deeper look shows that March Core PPI month over month came at 0.2% vs. 0.1% consensus.
This number was hotter than expected and should have been supportive of gold prices but selling from Europe continued unabated.  Core PPI excluded food and energy.  Yes, we all eat, drive and even heat our homes and businesses.  Therefore the use of core PPI comes under criticism.   However such criticism comes from talking heads who have not attempted to use PPI data in models and algorithms useful for real life trading.  In my algorithms and models, I use core PPI because regular PPI is simply too volatile and distorts trading signals to such a large extent that it makes otherwise very profitable algorithms unprofitable.
Major mining stocks such as Barrick Gold, Goldcorp and Newmont Mining have not been spared…Read more at Forbes
For more details and background please see the latest column by Nigam Arora on Dow Jones MarketWatch WHY GOLD AND SILVER ARE GOING DOWN 
FREE: SUBSCRIBE TO 'GENERATE WEALTH' NEWSLETTER