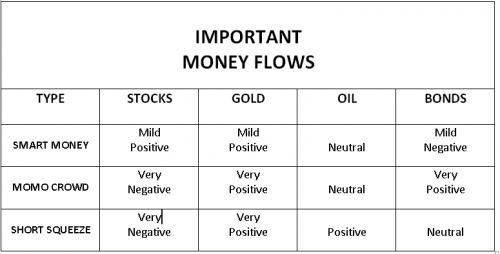 In my 30-plus years in the markets, I have learned that overbought markets are always vulnerable.
Overbought markets look for an excuse to sell off. Unfortunately, many less experienced investors do not understand that simple observation and end up losing money.
The chart
Please click here to see money flows segmented into three categories.
Please note from the chart that the "momo" (momentum) crowd was a big seller in the market decline. The same investors were aggressively buying when the market was going up. The momo crowd gets into the cycle of buying high and selling low.
The situation may get even worse for the momo crowd because, during this year's straight-up bull market, they have become accustomed to buying high in the hopes of selling higher. I have repeatedly seen momo investors make a lot of money and then lose it all. In contrast, the "smart money" (professional investors) continues to accumulate wealth by becoming defensive when the market gets overbought.
Today (Aug. 17), the smart-money flows were net mild positive. The smart money was previously selling into the stock market's rise. After a White House statement that I will describe later, the smart money started buying when the market took another leg down into the close of trading.
Trump's leadership
Trump's leadership skills are coming into question after he lost the backing of U.S. company CEOs…Read more at MarketWatch
You are receiving less than 2% of the content from our paid services …TO RECEIVE REMAINING 98%, TAKE A FREE TRIAL TO PAID SERVICES.
Please click here to take advantage of a FREE  30 day trial.
Check out our enviable performance in both bull and bear markets.
FREE: SUBSCRIBE TO 'GENERATE WEALTH' NEWSLETTER