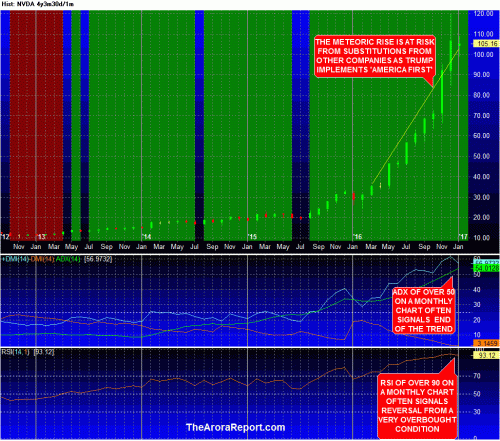 Donald Trump's inauguration speech Jan. 20 could be boiled down to: "I'm going to put America first." As an American, I liked that theme.
"Protection will lead to great prosperity and strength," the newly installed President Trump said. He also remarked: "We will follow two simple rules: Buy American and hire American."
My thoughts immediately drifted to any potential impact on my investments and those of subscribers to The Arora Report. As Trump implements his America-first policy, there could be repercussions for U.S.-based companies that do business overseas. A trade war could lead to higher taxes and tariffs for American companies if other countries retaliate.
I have designed a search screen that looks for U.S. companies whose products and services could easily be substituted by rivals from abroad. After listening to Trump's speech, I quickly added a technical screen and an earnings "hit" screen of U.S. companies that could be damaged if other countries buy fewer of their products.
Let's start with an annotated chart of Nvidia NVDA, a popular stock these days. Please click here for the chart.
Nvidia's stock, which surged 225% last year, is potentially imperiled as the chipmaker is heavily dependent on international revenue. The Santa Clara, Calif.-based company is known for graphics processing units (GPUs) for the gaming market as well as technology for self-driving cars and machine learning…Read more at MarektWatch
You are receiving less than 2% of the content from our paid services …TO RECEIVE REMAINING 98%, TAKE A FREE TRIAL TO PAID SERVICES.
Please click here to take advantage of a FREE  30 day trial.
Check out our enviable performance in both bull and bear markets.
FREE: SUBSCRIBE TO 'GENERATE WEALTH' NEWSLETTER