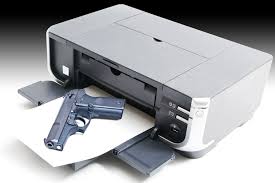 Gun control legislation in Washington is moving at a snail's pace, if at all, but technological developments are moving at a much faster one.
The world's first gun made mostly with a 3D printer has been test fired and now you can buy 3D printers at Staples SPLS. Soon blueprints to print a 3D gun in a garage will be available online.
We are on the verge of entering an era in which governments across the world may not be able to control the supply of guns.  This has profound political, cultural, social, and law enforcement implications.
The first 3D printed gun has been produced by Defense Distributed. Andy Greenberg of Forbes has provided excellent coverage here.
Defense Distributed is headed by a 25-year old law student, Cody Wilson.  His website states that his goal is to "produce and publish a file for a completely printable gun."  For me, it is publishing the file that stands out.
I am an engineer.  At least in theory printing a rudimentary gun seems easy, one that any good engineer should be able to accomplish with relative ease.  However, availability of a blueprint online will make it simple for those without expertise to print a gun.
Buying a printer and supplies is not difficult either.  Staples, the ubiquitous office supply chain, announced that it will carry a 3D printer.  Staples' initial supplier is 3D Systems DDD and Staples is starting  out by carrying 3D System's Cube 3D printer…Read more at Forbes
FREE: SUBSCRIBE TO 'GENERATE WEALTH' NEWSLETTER