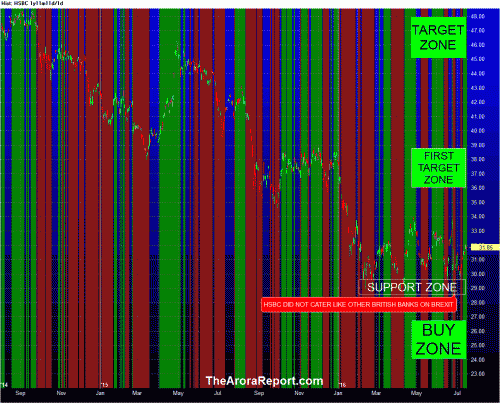 After the Brexit vote, European banks were hammered. American banks held up comparatively well as the prevailing wisdom is that large American banks are fairly insulated from European banks.
One good way to generate high risk-adjusted returns is to find anomalies that run counter to the prevailing wisdom. One such anomaly is a blue-chip European bank HSBC HSBC,   in U. K. that has performed not only better than European banks, but has also outperformed American banks.
The charts
Let us start by looking at two charts. The first chart is a long-term annotated chart of HSBC that shows buy, target and support zones.
Please click here for the long-term annotated chart of HSBC.
The second chart is for a one-month period that includes the Brexit and compares HSBC with three large American banks, Bank of America BAC,  Citigroup C,  and JPMorgan JPM, as well as to three large European banks, Barclays BCS, Deutsche Bank DB,  and Banco Santander SAN.
Please click here for the chart comparing HSBC to large American and European banks.
The chart shows that HSBC has outperformed both its American and European peers. Over the last month, HSBC is up 5.67%. In contrast, the darling of American banking, JPMorgan is up only 3.77% in spite of reporting earnings during this period that beat not only the consensus number, but also the higher whisper number. During this period, HSBC has also outperformed Barclays, a British bank with large international operations, by 17.64%…Read more at MarketWatch
You are receiving less than 2% of the content from our paid services …TO RECEIVE REMAINING 98%, TAKE A FREE TRIAL TO PAID SERVICES.
Please click here to take advantage of a FREE  30 day trial.
Check out our enviable performance in both bull and bear markets.
FREE: SUBSCRIBE TO 'GENERATE WEALTH' NEWSLETTER