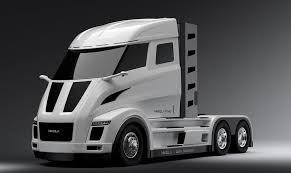 This post was just published on ZYX Buy Change Alert.
Tesla (TSLA) is named after Nikola Tesla.  Now there is another company named 'Nikola'  that deserves your attention.
Nikola (NKLA) is involved in the development of class 8 semi-trucks fueled by hydrogen for zero emissions.  Nikola is combining with a special purpose entity that trades under the symbol VTIQ. The stock will soon start trading under the symbol NKLA.
There are four key points here.
This is a speculative opportunity to get on the ground floor of a Tesla TSLA like investment.
Virgin Galactic merged with a publicly traded special purposes entity and started trading under the symbol SPCE. Both SPCE and TSLA stocks have skyrocketed.
This stock should be accumulated over a wide zone.
There is a significant risk of loss.  for this reason it is suitable only for aggressive investors.
Zones
For those following the Good Way and are aggressive, the Buy Now rating is a 'YES' to start a small scale in right here.  VTIQ is trading at $12.57 as of this writing.
For those following the Best Way, the buy zone is $9 to $12.88.
Maximum recommend quantity is 20% of full core position size.
Mental stop zone is $7.73 to $8.18.
There is no target zone at this time because it will depend on if the stock catches the fancy of the momo crowd and gains a cult like following similar to TSLA and SPCE.  Just take a look at the charts of SPCE and TSLA to picture just how high the target can go.
A knowledgeable investor would have turned $100,000 into over $1,000,000 with the help from The Arora Report. NOW YOU TOO CAN ALSO SPECTACULARLY SUCCEED AT MEETING YOUR GOALS WITH THE HELP OF THE ARORA REPORT. You are receiving less than 2% of the content from our paid services. …TO RECEIVE REMAINING 98% INCLUDING MANY ATTRACTIVE INVESTMENT OPPORTUNITIES, TAKE A FREE TRIAL TO PAID SERVICES.
Please click here to take advantage of a FREE  30 day trial.
Check out our enviable performance in both bull and bear markets.
FREE: SUBSCRIBE TO 'GENERATE WEALTH' NEWSLETTER