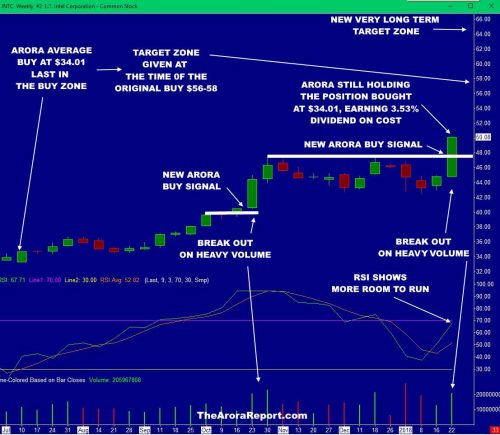 The strategy of buying "ugly ducklings that are just turning into swans" is especially attractive for prudent investors who see high risk in chasing the momentum but still want to generate high risk-adjusted returns.
One way to learn the strategy is to explore a recent buy signal on Intel INTC.
The chart
Please click here to see an annotated chart of Intel. Note the following:
•As the chart shows, Intel has broken out after strong earnings.
• The breakout is on heavy volume. This is positive. Breakouts on heavy volume may retrace but ultimately (not always) succeed more often than not.
• This is a second successive breakout.
• Please click here to see the chart of first breakout from a triple top. Such breakouts are powerful and are often followed by subsequent breakouts. This is exactly what has happened. When you look at the target zones shown on the first chart, the call to buy Intel at that time has proven spot on given that the stock has since risen more than 25%. For those interested in more depth about the last call, please see "A breakout in this cheap, forgotten stock is powering the Dow Jones Industrial Average."
• When the initial call was made by The Arora Report to buy Intel at an average price of $34.01, the target zone was set at $56 to $58. At that time many analysts still had a 'sell' on Intel and had their targets in high $30s and low $40s. This pessimism among analysts provided the opportunity for astute investors.
• Now that Intel has broken out above $50, the same analysts are raising their targets to around The Arora Report's original target. The Arora Report's very long-term target now is $64 to $66. Please be aware that since Wall Street analysts have become optimistic on the stock, there is more risk in the stock now compared with our prior buy signals.
The best way to understand this is that when there is a lot of pessimism, almost everyone who is going to sell has already sold it….Read more at MarketWatch.
A knowledgeable investor would have turned $100,000 into over $1,000,000 with the help from The Arora Report. NOW YOU TOO CAN ALSO SPECTACULARLY SUCCEED AT MEETING YOUR GOALS WITH THE HELP OF THE ARORA REPORT. You are receiving less than 2% of the content from our paid services. …TO RECEIVE REMAINING 98% INCLUDING MANY ATTRACTIVE INVESTMENT OPPORTUNITIES, TAKE A FREE TRIAL TO PAID SERVICES.
Please click here to take advantage of a FREE  30 day trial.
Check out our enviable performance in both bull and bear markets.
FREE: SUBSCRIBE TO 'GENERATE WEALTH' NEWSLETTER