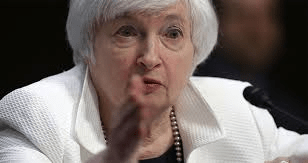 This post was just published on ZYX Buy Change Alert.
We have very intelligent subscribers.  We have received many emails asking about buying ahead of Yellen's speech.  Our subscribers are correct that Yellen has traditionally been dovish and if she is dovish again the market is likely to go up.
In our view, there is too much risk in buying ahead of Yellen.  The reason is that two members of Fed's inner circle, Dudley and Fischer, have come out in favor of raising interest rates.  Are these two having differences with Yellen?  Or are these two preparing the market for a hawkish Yellen?   There is no way to know for sure but the probability of the latter is higher.  For this reason, it is not prudent to do aggressive buying ahead of Yellen.
It is always better to preserve capital.
You are receiving less than 2% of the content from our paid services …TO RECEIVE REMAINING 98%, TAKE A FREE TRIAL TO PAID SERVICES.
Please click here to take advantage of a FREE  30 day trial.
Check out our enviable performance in both bull and bear markets.
FREE: SUBSCRIBE TO 'GENERATE WEALTH' NEWSLETTER