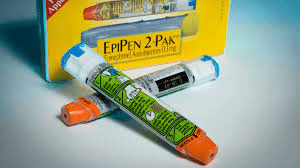 This post was just published on ZYX Buy Change Alert.
MYL is primarily a drug manufacturer but also has a few branded products like EpiPen.  The stock has been under pressure because of controversial price increase on EpiPen.  As of this writing the stock has broken support at $45 on Clinton calling the price hike outrageous.
If the stock continues to fall, consider accumulating up to 30% of the full core position size in the zone of $39.31 to $42.56.  Target zone is $48 to $49.  Stop zone is $37 to $38.23.
Caution: to be absolutely clear, we are not recommending buying right here around $45.
This is a short-term trade and not an investment.
You are receiving less than 2% of the content from our paid services …TO RECEIVE REMAINING 98%, TAKE A FREE TRIAL TO PAID SERVICES.
Please click here to take advantage of a FREE  30 day trial.
Check out our enviable performance in both bull and bear markets.
FREE: SUBSCRIBE TO 'GENERATE WEALTH' NEWSLETTER