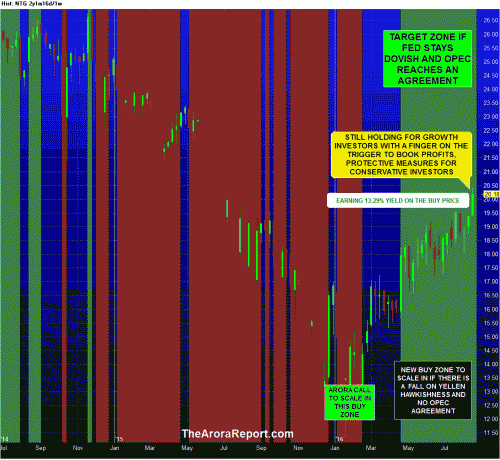 When almost everyone is positioned one way and the news shows the positioning is wrong, tremendous investment opportunity is created.
Late last year and earlier this year, such an opportunity was created due to combination of the Federal Reserve raising interest rates for the first time since the Great Recession and the Organization of the Petroleum-Exporting Countries not freezing oil production. A 51% return in 2016 from the aforementioned opportunity is the number everyone can easily verify, as explained later in this article.
Now there is potential for a similar opportunity to be created in the near future.
The scenario
Overall, the markets are positioned for the Fed staying dovish and OPEC agreeing to a production freeze. If the positioning of the big players on both counts turns out to be wrong, there may be a potential 51% opportunity on the short side, followed by a potential 51% opportunity on the long side.
Yellen at Jackson Hole
Federal Reserve of Kansas City is holding its annual Economic Policy Symposium at Jackson Hole from Thursday to Saturday. Janet Yellen will speak on Friday.
The belief is that the FOMC's hawkish members don't matter because Yellen is an ultra-dove. Markets are positioned for Yellen to be ultra-dovish at Jackson Hole.
That complacency is striking given that two important members of the Fed's inner circle have very recently delivered hawkish statements. Stanley Fischer, the Fed's vice chairman, made a very hawkish statement over the weekend about raising rates…Read more at MarketWatch.
You are receiving less than 2% of the content from our paid services …TO RECEIVE REMAINING 98%, TAKE A FREE TRIAL TO PAID SERVICES.
Please click here to take advantage of a FREE  30 day trial.
Check out our enviable performance in both bull and bear markets.
,
FREE: SUBSCRIBE TO 'GENERATE WEALTH' NEWSLETTER