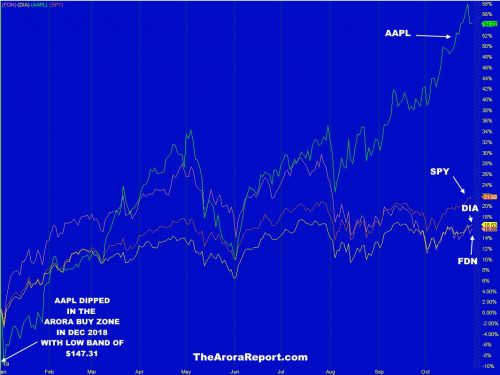 After reporting quarterly earnings Wednesday, Apple's stock came close to $250, a target we had previously set.
Looking forward, here is the key question: How high can Apple's AAPL stock go? Let's explore with the help of a chart.
Please click here for an annotated chart of Apple stock.
Note the following:
• The chart compares Apple stock to the Dow Jones Industrial Average DJIA, S&P 500 ETF SPY and internet ETF FDN.
• The comparison with the internet ETF is important. The top holdings of the ETF include Amazon AMZN, Facebook FB, Netflix NFLX and Google holding company Alphabet GOOG, GOOGL. As the chart shows, Apple has significantly outperformed not only the indexes but also the internet ETF.
• The chart shows that Apple stock fell in the Arora buy zone in December 2018. The low band of the buy zone was $147.31.
• On May 2, 2018, The Arora Report raised Apple's price target to the zone of $240 to $250. We subsequently reiterated the target zone.
• Our thesis was summed up in the following sentence: "When Wall Street starts understanding the transition, Apple's stock is likely to move up to the Arora Report's target zone of $240 to $250." Please see "Apple stock's next milestone is $250 as the company makes a crucial transition."
• In due course, Wall Street started understanding the transition.
• My longstanding prediction from years ago was that Apple would make a transition to services. I also predicted that Apple would start getting a higher price-to-earnings (P/E) ratio when its service revenue reached 20% of total revenue.
• Apple's earnings report shows that Apple is succeeding with the transition.
• On Oct. 23, before the earnings release, The Arora Report raised Apple's very long-term target zone to $325-$365. To the best of my knowledge, this is the highest target around at this time.
• The earnings report shows that services and wearables are performing ahead of expectations.
• When the 5G phones from Apple come out, there will be a massive upgrade cycle.
• In the future, Apple may reach an inflection point where revenues from health-care-related offerings may dramatically increase.
• There are reports that Apple is planning a low-cost phone for emerging markets. This will be a big step in the right direction….Read more at MarketWatch.
A knowledgeable investor would have turned $100,000 into over $1,000,000 with the help from The Arora Report. NOW YOU TOO CAN ALSO SPECTACULARLY SUCCEED AT MEETING YOUR GOALS WITH THE HELP OF THE ARORA REPORT. You are receiving less than 2% of the content from our paid services. …TO RECEIVE REMAINING 98% INCLUDING MANY ATTRACTIVE INVESTMENT OPPORTUNITIES, TAKE A FREE TRIAL TO PAID SERVICES.
Please click here to take advantage of a FREE  30 day trial.
Check out our enviable performance in both bull and bear markets.
FREE: SUBSCRIBE TO 'GENERATE WEALTH' NEWSLETTER