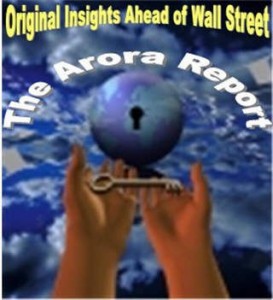 Greetings Friends,
Happy New Year!
A new decade is starting.  The new decade will bring both opportunities and perils for investors.  Some investors will make millions while others will lose their shirts.
Don't be fooled by the markets going mostly straight up over the last decade.  The prior decade from 2000 to 2010 was not that great.  In 2000, when the market crashed, many investors heavily focused on technology lost 80% of their portfolios.
In 2008, when the market crashed, most investors lost half of the value of their portfolios.
The Arora Report has produced an unrivaled performance record in both bull and bear markets.  In 2008 bear market, when most investors were losing a ton of money, The Arora Report generated a return of 45.90% by using inverse ETFs and other techniques.
With the help of The Arora Report, a knowledgeable investor could have generated over 1000% return including the period of the big bear market of 2008.  Of course, past performance is not a guarantee of future performance.   There is always risk in investing and significant losses can occur. But you already know that.  There is no free lunch.
151 of Arora portfolio companies have been bought out or have otherwise gained from M&A.  This has produced a fortune for investors.
Are you set up to have an edge in the markets and multiply your wealth over the new decade?
It is my pleasure to invite you to take a 30 day free trial to our paid services.  Your credit card is not charged in the first 30 days.  Your satisfaction is guaranteed.  If these services are not for you, simply cancel before the charge and owe nothing.
Please click here to take the 30 day free trial to the service of your choice.  Also note that the Corporate Bundle 1 which was previously available only to money managers has become very popular since it has been opened to private investors.
Regards,
Nigam Arora
A knowledgeable investor would have turned $100,000 into over $1,000,000 with the help from The Arora Report. NOW YOU TOO CAN ALSO SPECTACULARLY SUCCEED AT MEETING YOUR GOALS WITH THE HELP OF THE ARORA REPORT. You are receiving less than 2% of the content from our paid services. …TO RECEIVE REMAINING 98% INCLUDING MANY ATTRACTIVE INVESTMENT OPPORTUNITIES, TAKE A FREE TRIAL TO PAID SERVICES.
Please click here to take advantage of a FREE  30 day trial.
Check out our enviable performance in both bull and bear markets.
FREE: SUBSCRIBE TO 'GENERATE WEALTH' NEWSLETTER