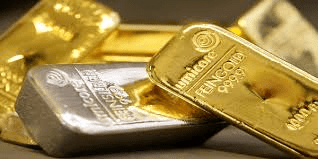 Due to heavy interest among our subscribers on the impact of bitcoin on gold, excerpts from an article in Business Standard — India's second largest financial publication, is published below. India is often the largest or the second largest consumer of gold. Developments in India often move gold.  Nigam is extensively quoted in the article. 
Gold has been in a long phase of consolidation for the past five years, after falling from its all-time high of $1,900 an ounce in September 2011. Silver, too, hit a high of $48.44 an ounce in April 2011, which was very close to its all-time high of $49.45. It consolidated thereafter but unlike gold, 2017 has not been good for investors.
Historically, gold rallies for a decade, and then follows a long consolidation phase. So, will this consolidation phase end in 2018? May not, say experts. There are a few factors, however, which will decide how gold prices move, and the most prominent one is cryptocurrencies.
Nigam Arora, an international market analyst and author of the Arora Report, expects gold to be range-bound between $1,120 and $1,380 in 2018, barring any major events. However, he says, "Cryptocurrencies such as Bitcoin will be another major factor. Data gathered by the Arora Report show some money, which would have normally gone into gold and silver, is going into cryptocurrencies.  If cryptocurrencies continue to rise, this trend will accelerate and hurt gold. On the flip side, if cryptocurrencies crash, it will be positive for gold."
Cryptocurrencies have rallied sharply with the price of many of them doubling in a few days, including Bitcoin which saw a high of $20,000, from where it fell to $11,000 in a few days' time. It is again trading around $14,000. Cryptocurrency market is also gaining strength with its total market value around $600 billion.
Apart from movement of Bitcoin,  there are a few positives. Nigam says, "On the positive side, inflation may pick up and there may be increasing nervousness about the build-up of debt in China and the US." "On the negative side, interest rates are likely to rise. Since gold does not pay interest or dividends, rising interest rates are negative for gold," he adds.
Another factor, Nigam explains, is that right now stock markets across the globe are very bullish. "If stock markets crack, there will be a rush of money into the safe haven of gold. As always, geopolitical developments are very important to gold. If North Korean situation worsens or if the US gets into a confrontation with Iran, it will be positive for gold," he adds.
A knowledgeable investor would have turned $100,000 into over $1,000,000 with the help from The Arora Report. NOW YOU TOO CAN ALSO SPECTACULARLY SUCCEED AT MEETING YOUR GOALS WITH THE HELP OF THE ARORA REPORT. You are receiving less than 2% of the content from our paid services. …TO RECEIVE REMAINING 98% INCLUDING MANY ATTRACTIVE INVESTMENT OPPORTUNITIES, TAKE A FREE TRIAL TO PAID SERVICES.
Please click here to take advantage of a FREE  30 day trial.
Check out our enviable performance in both bull and bear markets.
FREE: SUBSCRIBE TO 'GENERATE WEALTH' NEWSLETTER