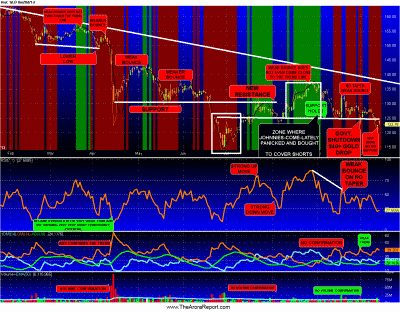 Yesterday, as comments from China to de-Americanize the world hit the wires, my inbox was quickly flooded with over two dozen emails from alert subscribers asking if they should buy gold based on the news. Such subscribers are right in that if China succeeds at de-Americanizing the world, the right course of action for investors is to buy ETFs for the following: gold GLD , silver SLV, gold miners GDX and junior gold miners GDXJ.
Let us start by digging below the surface. A good first step is to take a close look at annotated long-term as well as short-term charts of gold.
Please click here for the long-term chart.
Please click here for the short-term chart.
The origin of the news was from a commentary by Liu Chang in Xinhua which is the state-controlled news agency of China. The commentary was provocatively titled, 'U.S. fiscal failure warrants a de-Americanized world.'
Here are the relevant excerpts from the commentary, please read and judge for yourself.
"As U.S. politicians of both political parties are still shuffling back and forth between the White House and the Capitol Hill without striking a viable deal to bring normality to the body politic they brag about, it is perhaps a good time for the befuddled world to start considering building a de-Americanized world.
"Meanwhile, the U.S. government has gone to all lengths to appear before the world as the one that claims the moral high ground, yet covertly doing things that are as audacious as torturing prisoners of war, slaying civilians in drone attacks, and spying on world leaders.
"Moreover, instead of honoring its duties as a responsible leading power, a self-serving Washington has abused its superpower status and introduced even more chaos into the world by shifting financial risks overseas, instigating regional tensions amid territorial disputes, and fighting unwarranted wars under the cover of outright lies…Read more at MarketWatch
FREE: SUBSCRIBE TO 'GENERATE WEALTH' NEWSLETTER