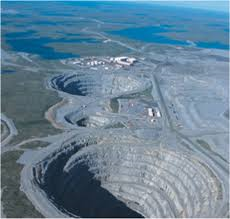 This post was just published on ZYX Buy Change Alert. 
Congratulations if you followed us in buying Canada's largest independent diamond miner DDC on Friday.  The company now has a $14.25 cash buyout offer and the company has agreed to be acquired.
This is the 125th buyout of our portfolio companies or where one of our portfolio companies benefited significantly from M&A.  This is unrivaled performance.
Services that specialize in buyouts and cost $50,000 to $100,000 do not hold a candle to our performance in buyouts. 
Our long-time subscribers have made a ton of money from buyouts.  A vast majority of the time, gains are much higher than is the case here in DDC.  However you have to keep in mind the risk taken.  Our objective is to achieve high risk adjusted returns, not just high returns sometimes and then incurring major losses because risk is not taken into account.
In the case of DDC, we hardly took any risk because going in we knew there was a $13.50 cash offer.  For this reason we knew the risk of loss was minimal. Our call was simply that there would be a higher offer. That call has know proven spot on.
There is still a possibility, although small, of another offer higher than this one.
What To Do Now
Those with medium and large accounts may consider continuing to hold.
Those with small accounts may consider cashing in right here as the capital can be better deployed elsewhere.
Trades posted on The Arora Report Market Blog have produced unrivalled performance since 2007.  Please click here and scroll down to see the table of all trades.  These trades have been scrutinized in real-time by thousands of investors across the globe.  This provides easy verification of performance for newcomers to this site.  Only those trades are included in the performance where the entry post was made available to subscribers to The Arora Report Market Blog.  When the entry post is made available only to the paying subscribers and not posted in real-time on The Arora Report Market Blog, the resulting performance of the trade is not credited in the performance table.  There are very nice gains on this trade but since the entry trade was not posted here for the free subscribers in real-time but only made available to the paying subscribers, handsome profits on this trade will not be added to the performance of The Arora Report Market Blog shown on the table.
You are receiving less than 2% of the content from our paid services …TO RECEIVE REMAINING 98%, TAKE A FREE TRIAL TO PAID SERVICES.
Please click here to take advantage of a FREE  30 day trial.
Check out our enviable performance in both bull and bear markets.
FREE: SUBSCRIBE TO 'GENERATE WEALTH' NEWSLETTER