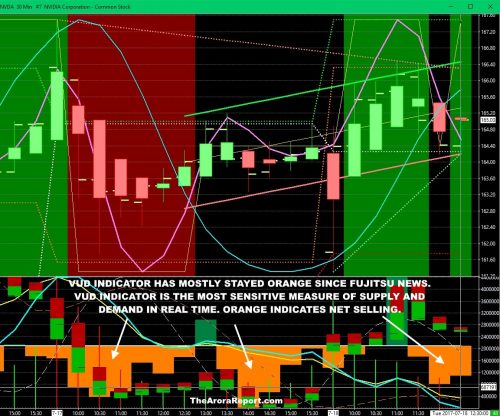 It is increasingly looking like the future belongs to artificial intelligence.
Two of the hottest stocks in that industry are Nvidia NVDA,  and Advanced Micro Devices AMD.  The strength of those stocks is largely attributable to the excitement around the artificial-intelligence capabilities of their processors.
A key to success in hot technology companies is to keep an eye on newly developing competition. Prudent investors tend to sell into strength when new competition emerges. The momo (momentum) crowd is often left holding the bag.
Increased competition may be coming to Nvidia and AMD in the form of a new artificial-intelligence processor that's 10 times more powerful than their current offerings. Let's take a look at this. First, a chart.
Chart
Please click here for the annotated chart. It's a 30-minute chart of Nvidia covering the period during which the "smart money" has been taking the news of potential new competition into its analysis.
Please note from the chart that the VUD indicator has been consistently orange. The VUD indicator is the most sensitive measure of supply and demand in real time. Orange indicates a higher supply than demand. The VUD indicator staying mostly orange when the price does not move much or goes higher is often an early indicator of the strength of sellers in a stock…Read more at MarketWatch
You are receiving less than 2% of the content from our paid services …TO RECEIVE REMAINING 98%, TAKE A FREE TRIAL TO PAID SERVICES.
Please click here to take advantage of a FREE  30 day trial.
Check out our enviable performance in both bull and bear markets.
FREE: SUBSCRIBE TO 'GENERATE WEALTH' NEWSLETTER