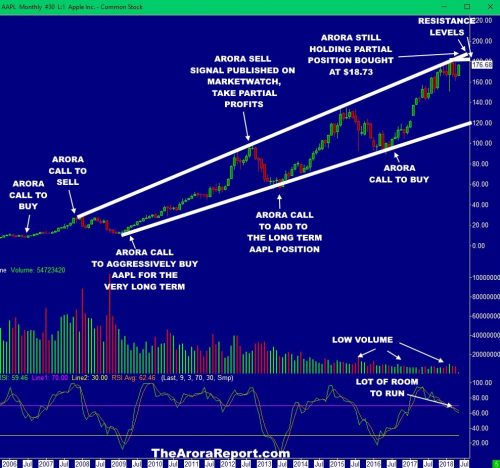 There is an astounding aspect to Apple that many investors haven't focused on.
Apple Inc. AAPL,  added 100 million subscribers to its software-and-services segment over a one-year period. Compare this with that much celebrated number from Amazon AMZN.  It took Amazon 13 years to reach 100 million Prime customers. Apple previously needed many years to amass 170 million subscribers.
Services will likely be the growth engine for Apple, unless the Cupertino, Calif.-based company comes up with a new product line. That is a much bigger positive for Apple's stock than it seems on the surface.
Let's explore this issue, starting with a chart.
Chart
Please click here for an annotated chart of Apple. Please note the following from the chart:
• The chart shows that the price of Apple's stock has been bound by two lines. The upper line provides the second resistance that needs to be broken for the stock to move higher.
• The chart shows a horizontal line above the current price that offers the first resistance and needs to be broken.
• The chart shows that over recent years, volume in Apple's stock is low. This indicates that Apple is an over-owned stock. Over-ownership makes a breakout difficult because almost anyone who wants to own Apple already owns it.
• The Arora Report continues to hold a core position in Apple stock originally bought at $18.73. We have doubled the returns for our subscribers by trading around the core position with well-timed entries and exits over the years. This record is publicly well-documented.
• The relative strength index (RSI) shows that there is a lot of room to run, but the stock has not yet picked up the momentum needed to break out.
Long-held prediction
Apple has traditionally garnered a relatively lower price-to-earnings (P/E) ratio because of its heavy dependence on the iPhone..
( To see specific buy zones, target zones and stop zones and position size, take a free 30 day trial to ZYX Buy. If you own Apple stock, your subscription is a must as you can double your returns on trade around positions. Please click here to take a free trial.)…Read more at MarketWatch.
A knowledgeable investor would have turned $100,000 into over $1,000,000 with the help from The Arora Report. NOW YOU TOO CAN ALSO SPECTACULARLY SUCCEED AT MEETING YOUR GOALS WITH THE HELP OF THE ARORA REPORT. You are receiving less than 2% of the content from our paid services. …TO RECEIVE REMAINING 98% INCLUDING MANY ATTRACTIVE INVESTMENT OPPORTUNITIES, TAKE A FREE TRIAL TO PAID SERVICES.
Please click here to take advantage of a FREE  30 day trial.
Check out our enviable performance in both bull and bear markets.
FREE: SUBSCRIBE TO 'GENERATE WEALTH' NEWSLETTER