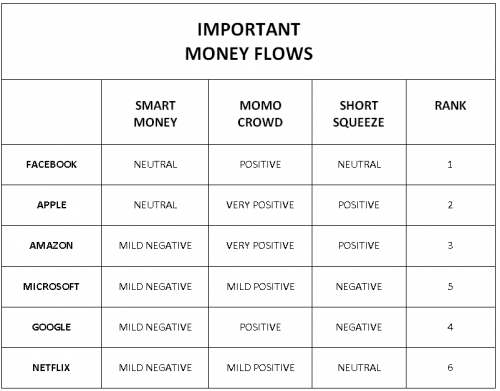 After languishing for a few days, FAANG stocks are back in a big way.
That's because FAANG cowboys are once again enamored about big technology stocks. I call those investors cowboys because they seem mesmerized by the potential rewards of buying into the momentum but appear mostly oblivious to the risks.
Should you follow?
To gain an edge, please click here to see money flows into FAANG stocks segmented by important categories and ranked, information that's provided to The Arora Report subscribers.
The holy grail of investing in a bull market is to buy stocks when they pull back. Some of the FAANG stocks have pulled back. But here's the key question: "Have they pulled back enough?" This is an important question, especially since the market is entering a seasonally weak period from late August to late October.
To look for answers, money flows shown in the chart provide important clues. Please note from the chart that the "smart money" (professional investors) is not following the momo (momentum) crowd. Perhaps the reason is that the smart money is interested in risk-adjusted returns, i.e., returns in excess of those commensurate with the risk taken.
FAANG stocks are Facebook FB,  Apple AAPL, Amazon AMZN,  Netflix NFLX,  and Alphabet GOOG, -0.43% GOOGL.  A variation is FAAMG, which swaps in Microsoft MSFT,  for Netflix.
Money-flow segmentation
I have been watching and investing based on money flows for a very long time. Long ago I concluded that investing and trading on money flows alone did not give me the edge I was seeking. That led to the multi-year quest of developing algorithms to dissect money flows into various segments….Read more at MarketWatch
You are receiving less than 2% of the content from our paid services …TO RECEIVE REMAINING 98%, TAKE A FREE TRIAL TO PAID SERVICES.
Please click here to take advantage of a FREE  30 day trial.
Check out our enviable performance in both bull and bear markets.
FREE: SUBSCRIBE TO 'GENERATE WEALTH' NEWSLETTER