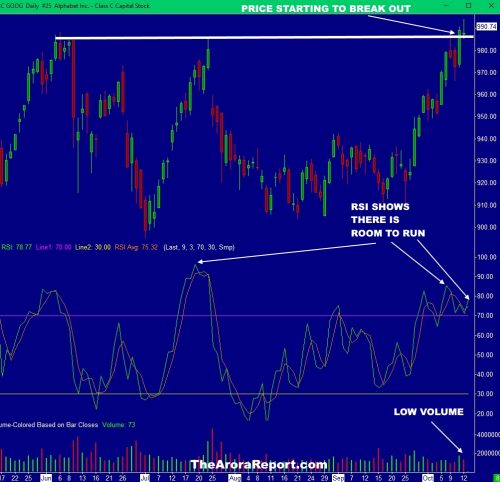 FAANG stocks are investor darlings. Four of them are considered sexy — they have cool products, brainiac CEOs or California-style innovation. But one is not like the others. And herein lies an opportunity for astute investors.
The masses love Apple's AAPL,  iPhones, and hardly anyone cares about Google's GOOG,  GOOGL,  Facebook FB,  is getting a massive amount of criticism from Russians using its platform to influence the U.S. election. The Russians also used Google's platform, but not many care. Original productions at Netflix NFLX,  gain a lot of attention, while the extraordinary performance of Google's YouTube is ignored. Finally, consumers spread their love for Amazon AMZN,  as they increasingly buy products online, though they use Google search more often than they buy from Amazon.
In short, there is no love for Google.
Let's break down this stock, which has risen 7% or 8% (depending on share class) since Sept. 25. Of the FAANG stocks, only Netflix has done better, at 10%.
Chart
Please click here for an annotated chart of Google. Note the following from the chart.
• The price is beginning to break out.
• RSI (relative strength index) shows there is more room to run.
• The rally is on low volume and for this reason poses risk.
The traditional technical analysis does not work as well as it used to. This is an important concept for investors to understand. Please click here for more insights.
Gain an edge
Please click here for a chart of money flows in FAANG stocks as well as popular stocks including AMD AMD,  Alibaba BABA,  Microsoft MSFT,  Nvidia NVDA,  and Tesla…Read more at MarketWatch
You are receiving less than 2% of the content from our paid services …TO RECEIVE REMAINING 98%, TAKE A FREE TRIAL TO PAID SERVICES.
Please click here to take advantage of a FREE  30 day trial.
Check out our enviable performance in both bull and bear markets.
FREE: SUBSCRIBE TO 'GENERATE WEALTH' NEWSLETTER