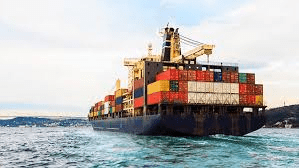 (This information was provided much earlier to paid subscribers when these stocks were right at their top.  This allowed paying subscribers to profit handsomely.)
The Trump shipping-stock boom is in full bloom. Trump has promised to rebuild the infrastructure in America. The narrative behind the shipping-stock boom is that these companies will see a huge jump in business as the materials for Trump infrastructure are shipped to America from overseas.
The 10 shipping stocks on our radar at The Arora Report are:
Diana Containerships DCIX,

-61.20%

DryShips DRYS,

-79.59%

Diana Shipping DSX,

-12.53%

Eagle Bulk Shipping EGLE,

-21.35%

Euroseas ESEA,

-40.00%

Globus Maritime Limited GLBS,

-53.97%

Genco Shipping & Trading GNK,

-17.01%

Navios Maritime Partners NMM,

+0.40%

Scorpio Bulkers SALT,

-9.05%

Sino-Global Shipping America SINO,

-26.15%
The table linked below shows returns of 59% to 2433% since the election. The table also shows float and short interest as percentage of float for the 10 stocks mentioned.
Please click here for the table of shipping stocks.
The height of insanity
It is true that Trump wants to build a wall on the Mexican border and improve our roads, bridges and airports.
Trump has also promised to revive the American steel industry. There are formidable American steel companies such as United States Steel Corp X, +2.77% AK Steel Holding Corporation AKS, +1.58% Nucor Corporation NUE, -0.39% TimkenSteel Corporation TMST, -1.16%   and Steel Dynamics STLD, +0.39%  prepared to supply steel and related components.
China has the most steel overcapacity in the world. However, Trump has talked about putting up to a 45% tariffs on Chinese imports. Can anyone in his or her right mind see Trump importing steel from China to build American infrastructure?
America has gravel
It is true that all the infrastructure projects will consume a large amount of gravel and related construction materials…Read more at MarketWatch
You are receiving less than 2% of the content from our paid services …TO RECEIVE REMAINING 98%, TAKE A FREE TRIAL TO PAID SERVICES.
Please click here to take advantage of a FREE  30 day trial.
Check out our enviable performance in both bull and bear markets.
FREE: SUBSCRIBE TO 'GENERATE WEALTH' NEWSLETTER