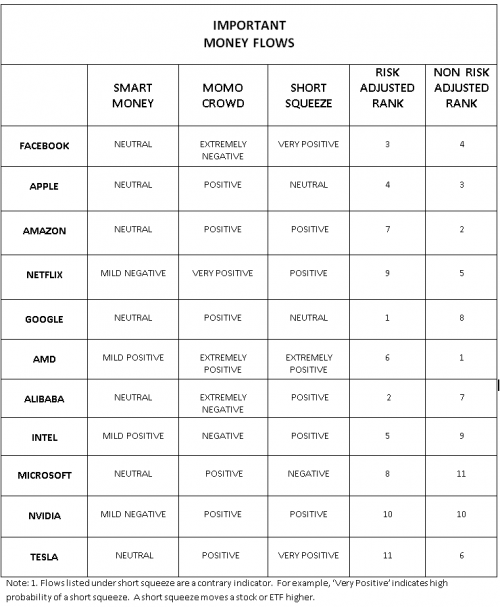 Prudent investors who know the history of the stock market pay special attention to October.
After all, on Oct. 19, 1987, Dow Jones Industrial Average DJIA,   plunged 22.61%. In October 2008, the S&P 500 SPX  lost nearly a fifth of its value. Historically, October tends to be more volatile than other months.
This fear of October is beginning to creep into the market. Let's examine with the help of a chart.
The chart
Please click here for the annotated chart of 11 popular tech stocks. Please note the following:
• Tech stocks have been the leaders of this market. It just makes sense to see how money is flowing into the leaders.
• Smart-money flows have turned neutral in Facebook FB, Apple AAPL, Amazon AMZN and Google holding company Alphabet GOOG, GOOGL.
• Smart-money flows are mildly negative in Netflix NFLX.  But the momentum (momo) crowd money flows are very positive.
• Advanced Micro Devices AMD  and Intel INTC  are the only two tech stocks shown on the chart with mild positive smart-money flows. Momo crowd money flows are extremely positive in AMD but negative in Intel. Also note that AMD is No. 1 on non-risk adjusted rank.
• Momo crowd money flows are extremely negative in Alibaba BABA  but smart money flows are neutral.
• Momo crowd money flows are positive on Microsoft MSFT and Tesla TSLA, but smart money flows are neutral.
• Smart-money flows are negative in Nvidia NVDA,  but momo crowd money flows are positive….Read more at MarketWatch.com.
A knowledgeable investor would have turned $100,000 into over $1,000,000 with the help from The Arora Report. NOW YOU TOO CAN ALSO SPECTACULARLY SUCCEED AT MEETING YOUR GOALS WITH THE HELP OF THE ARORA REPORT. You are receiving less than 2% of the content from our paid services. …TO RECEIVE REMAINING 98% INCLUDING MANY ATTRACTIVE INVESTMENT OPPORTUNITIES, TAKE A FREE TRIAL TO PAID SERVICES.
Please click here to take advantage of a FREE  30 day trial.
Check out our enviable performance in both bull and bear markets.
FREE: SUBSCRIBE TO 'GENERATE WEALTH' NEWSLETTER