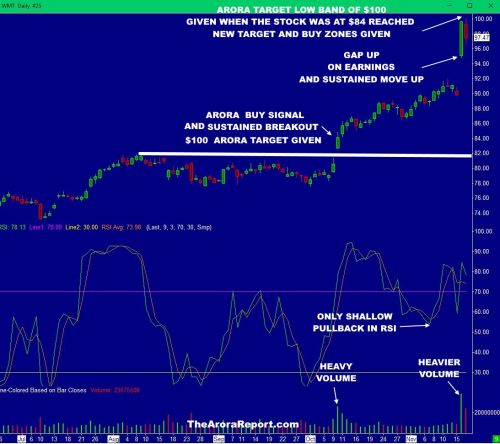 From the large number of emails I receive, anecdotal evidence is that many money managers and private investors have become drastically overweighted in FAANG stocks.
FAANG stocks are Facebook FB, Apple AAPL, Amazon AMZN,  Netflix NFLX,  and Google GOOG,  GOOGL.
Such over-concentration has been working, but there is nothing constant in the markets. Most investors recognize that they need to trim FAANG stocks and diversify. However, the pushback I have seen is that some investors see a lack of opportunities in blue chips outside FAANG stocks.
That is simply not true. If you watch for this particular pattern, there are plenty of opportunities. Investors following this pattern have recently made big profits. The pattern is breakouts from long bases with heavy volume and certain other characteristics. Let me illustrate with three recent examples of blue chip companies in the Dow Jones Industrial Average DJIA.
Wal-Mart
Please click here for an annotated chart of Wal-Mart WMT, stock; it followed the pattern described above. The Arora Report gave a buy signal only about a month ago when the stock was around $84 and gave the target zone's low band of $100. The target has already been hit.
Now The Arora Report has revised the target zone and given a new buy zone.
Please click here for the chart of Wal-Mart that was previously published on Oct. 11. For the sake of full transparency, this chart is unchanged from the prior publication. The chart shows the characteristics that, in part, led to the buy signal. For more details and reasons, please see "This Dow company is ready to go all-in against Amazon."
Wal-Mart's stock also provides a big dividend of 2.31%…Read more at MarketWatch
You are receiving less than 2% of the content from our paid services …TO RECEIVE REMAINING 98%, TAKE A FREE TRIAL TO PAID SERVICES.
Please click here to take advantage of a FREE  30 day trial.
Check out our enviable performance in both bull and bear markets.
FREE: SUBSCRIBE TO 'GENERATE WEALTH' NEWSLETTER