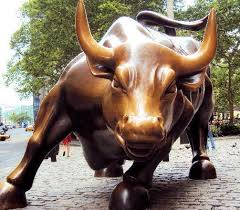 With the Dow Jones Industrial Average topping 24,000 in a big rally this year, Dow 30,000 is now on the horizon. That was not always the case.
In February 2017, when the Dow DJIA,  was much lower, I laid out a fundamental case for the benchmark reaching 30,000. I was scorned, as many expected the market not only to fall, but to crash. Let's explore that issue with a chart.
Chart dating to 1950
The chart shows GDP growth going back to 1950. President Trump has been talking about 4% growth in gross domestic product, which, as you can see, is a tall order. It's been attainable in the past, but not so much recently. Still, even if Trump doesn't meet his own goal, the economy — and corporate earnings — would benefit.
In plain English, if the economy starts growing at faster rate, the stock market has a shot at Dow 30,000.
Ask Arora: Nigam Arora answers your questions about investing in stocks, ETFs, bonds, gold and silver, oil and currencies. Have a question? Send it to Nigam Arora.
The fundamental case
The fundamental case I laid out in February is very much intact. The case was based on higher earnings, tax reform and deregulation. So far that call has been spot on. You can read more details here.
One warning
There is an old adage, "buy the rumor, sell the news." Often there is a lot of wisdom in such adages. So far investors have been buying the rumor of the tax reform. Any time there is a negative development on any front, investors ignore it and pin their hopes on the upcoming tax reform…Read more at MarketWatch
You are receiving less than 2% of the content from our paid services …TO RECEIVE REMAINING 98%, TAKE A FREE TRIAL TO PAID SERVICES.
Please click here to take advantage of a FREE  30 day trial.
Check out our enviable performance in both bull and bear markets.
FREE: SUBSCRIBE TO 'GENERATE WEALTH' NEWSLETTER