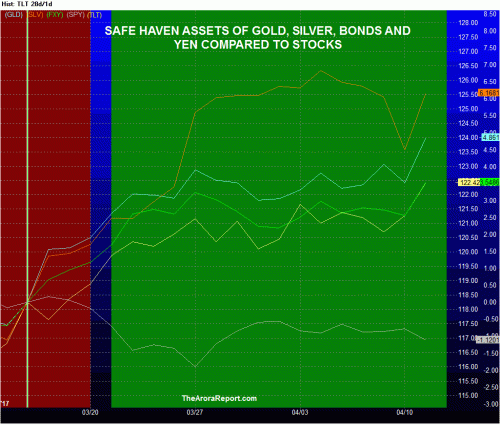 Investors are running headlong toward safe-haven assets. Gold, the ultimate safe haven, and bonds are in high demand.
The most common question I am being asked today is: "The world is falling apart, everyone is buying gold and bonds, so should I follow?" To answer that question, let's start by looking at a chart of safe-haven assets.
Chart
The chart compares the performance of the S&P 500 ETF SPY, with exchange traded funds of four popular safe-haven assets. Please click  here for the chart.
Popular safe-haven asset ETFs are gold ETF GLD, silver ETF SLV, Treasury bond ETF TLT,  and the Japanese yen ETF FXY,  Similar behavior can be seen in popular gold miner ETFs GDX,  GDXJ,  and NUGT,
The chart shows a strong move up by safe-haven assets. That was primarily prompted by the Trump administration's threats of Syria and, to a lesser extent, North Korea.
Prevailing wisdom
The prevailing wisdom is that geopolitical risks are accelerating and, therefore, it is time to aggressively buy gold, silver, bonds and the yen. To be successful, investors must cut through the noise and see reality even when it is contrary to what may be the consensus.
I am going to show you two simple common-sense facts to see why the prevailing wisdom might be wrong, and why you should not rush with the herd into safe-haven assets.
Ask Arora: Nigam Arora answers your questions about investing in stocks, ETFs, bonds, gold and silver, oil and currencies. Have a question? Send it to Nigam Arora.
Air defenses against Tomahawks
Russia has air defenses against Tomahawk missiles. Russia could have easily engaged incoming American missiles but its military chose not to. Actions speak louder than words. The actions of Russia show that by not engaging incoming missiles with air defenses, the country simply wanted to let President Trump de-escalate the situation.
The foregoing shows that all rhetoric aside, the Syria situation is not likely to escalate.
You are receiving less than 2% of the content from our paid services …TO RECEIVE REMAINING 98%, TAKE A FREE TRIAL TO PAID SERVICES.
Please click here to take advantage of a FREE  30 day trial.
Check out our enviable performance in both bull and bear markets.
FREE: SUBSCRIBE TO 'GENERATE WEALTH' NEWSLETTER