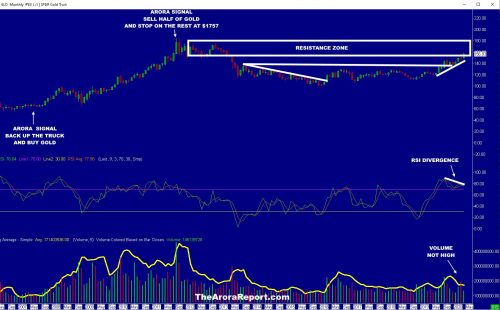 There's no vaccine for the coronavirus and few treatments for those who suffer from it.
For investors, there are only a handful of antidotes to the fallout of the pandemic virus. One is gold GC00, -3.708%.
Let's look at the relationship between stocks and gold
Two charts
Please click here for a long-term monthly chart of the Dow Jones Industrial Average ETF DIA, -7.931%, which tracks the Dow DJIA, -7.942%. For the sake of transparency, this chart was previously published, and no changes have been made.
Please click here for a long-term monthly chart of gold ETF GLD, -3.531%.
Note the following:
• You do not need any special expertise to make a simple observation from the two charts
• The first chart of the stock market shows a potential topping pattern
• The second chart that represents gold shows a potential bottoming pattern
• Consider comparing the second chart to charts of your favorite stocks, such as Apple AAPL or Amazon AMZN. You will reach the conclusion that these popular stocks have a topping pattern.
• The second chart shows that the volume in the gold ETF is not high In traditional technical analysis, this is considered negative. However, in my view, based on my over 30 years of experience, this is a positive. The reason is that the low volume shows that gold has not yet gotten the attention of stock market investors and is under-owned. If gold were to catch the attention of stock market investors, there is a long runway ahead.
• If gold catches stock market investors' attention, there is the potential of a repeat of what happened in 2007
• In 2007, when the Arora buy signal was given to back up the truck and buy gold, as shown on the chart, nothing happened for a few months
• A few months after the Arora signal, gold took off Investors more than tripled their money.
• Many investors are familiar with my long track record Those who are new, before sending me hate mail accusing me of being a gold bug, take another look at the second chart. I gave a sell signal to sell half of gold holdings at $1,904 at a time when the near-universal calls were to buy gold. Fortuitously, the signal to sell gold was given in the early morning of the day when gold topped a few hours later before a major pullback….Read more at MarketWatch.
A knowledgeable investor would have turned $100,000 into over $1,000,000 with the help from The Arora Report. NOW YOU TOO CAN ALSO SPECTACULARLY SUCCEED AT MEETING YOUR GOALS WITH THE HELP OF THE ARORA REPORT. You are receiving less than 2% of the content from our paid services. …TO RECEIVE REMAINING 98% INCLUDING MANY ATTRACTIVE INVESTMENT OPPORTUNITIES, TAKE A FREE TRIAL TO PAID SERVICES.
Please click here to take advantage of a FREE  30 day trial.
Check out our enviable performance in both bull and bear markets.
FREE: SUBSCRIBE TO 'GENERATE WEALTH' NEWSLETTER