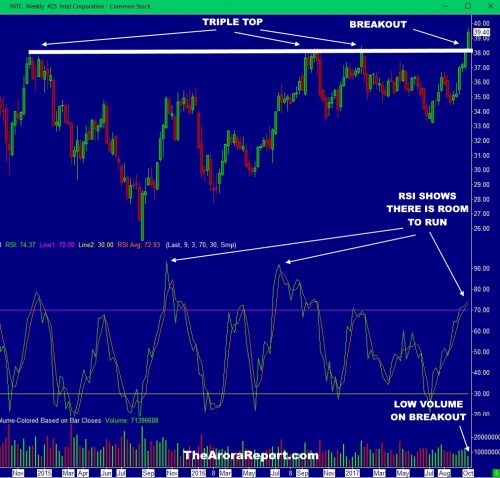 Most would agree that the U.S. stock market is expensive and is being driven by the momo crowd. The momo, or momentum, crowd cares less about risk, while prudent investors care a lot about risk.
At The Arora Report, we teach investors to be focused on risk-adjusted returns. In plain English, this means returns in excess of those commensurate with the risk taken.
Here is a lower-risk strategy that is working well in this expensive market. Stock-market opinions are a dime a dozen. Investors ought to focus on who has a proven track record. For this reason, we're starting with two of my recent calls that have been publicly available and not restricted to Arora Report subscribers. After you go through the examples, I will share with you the strategy.
Intel
Please click here for an annotated chart of Intel Corp.'s INTC stock. For the sake of full transparency, this is exactly the same chart without any updates that was published when the call was made early in October.
Since the call, Intel reported earnings that were better than consensus estimates and the whisper numbers. Stocks mostly move on the difference between the actual numbers and the whisper numbers. Since the call, the stock has moved up strongly.
Intel is part of Dow Jones Industrial Average DJIA. The stock had lagged popular semiconductor names such as Nvidia Corp. NVDA,  Advanced Micro Devices Inc. AMD, Micron Technology Inc. MU,  STMicroelectronics NV STM,  and Broadcom Ltd. AVGO.
Google
Please click here for an annotated chart of Alphabet Inc. GOOG,  GOOGL..Read more at MarketWatch
You are receiving less than 2% of the content from our paid services …TO RECEIVE REMAINING 98%, TAKE A FREE TRIAL TO PAID SERVICES.
Please click here to take advantage of a FREE  30 day trial.
Check out our enviable performance in both bull and bear markets.
FREE: SUBSCRIBE TO 'GENERATE WEALTH' NEWSLETTER