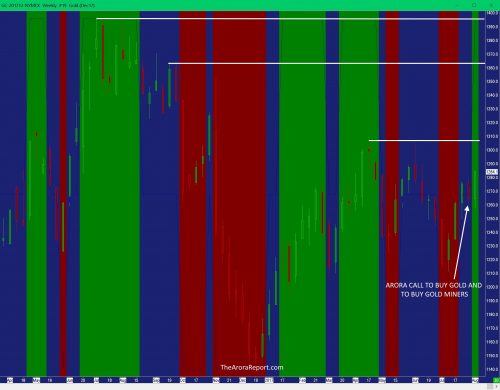 When the news hit that North Korea had succeeded at miniaturizing a nuclear warhead, I gave a call to buy gold in The Arora Report ZYX Global Multi Asset Allocation Alert when it was trading around $1260.   As of this writing, gold is trading at $1284. For most investors, the call was to buy gold ETF GLD. In The Arora Report ZYX Buy Change Alert, I gave a call to buy triple leveraged gold miner ETF NUGT at $29.12 for aggressive investors in lieu of gold ETF GLD.  It is trading at $31.24 as of this writing. Partial profits have already been taken on NUGT.  Initially gold did not move but then President Trump responded with his statement containing the following strong words: "fire, fury, and, frankly, power the likes of which this world has never seen."  Gold started moving after Trump's statement.  How high can gold go? This is the question I am being asked now.
My long time readers know that I extensively use algorithms.  When I gave a call to back up the truck and buy gold in the $600 range, I could confidently say that gold could triple.  The call was based on hard data.  The call proved spot on.  We sold half of our gold at $ 1904, right at the top, and put a stop on the rest at $1757.
Right now it is very different in that long-term target projections cannot be made based on hard data. Yes, we can have opinions but opinions are a dime a dozen.  To be successful over a long period of time, investors must make decisions based on hard data.  At this time it is necessary just simply to make an evaluation on a day by day basis.
The best way to look at targets is to take a sophisticated approach.  However, it is understandable that many investors want to take a simple approach.
The Simple Approach
Please click here to see an annotated chart of gold futures GC_F.  The chart shows resistance lines. These are the targets. When and if gold crosses a resistance line, we will look forward to the next resistance line.  This is the simple approach.
The Sophisticated Approach
In a sophisticated approach, we look at fund flows in the following three categories.
Momo crowd
Short squeeze
Smart money
We also look at probability of gold reaching various price zones.  To see the current data and how it is used, please click here.
Please note that this data changes often.
Gold And Silver Ratings
The Arora Report precious metal ratings are widely used by bullion dealers, jewelers and investors across the globe.
The first cut of ratings on gold and silver at The Arora Report is generated by complex algorithms that automatically change with market conditions. Then human judgement is added before publication.  Inputs to our algorithms include relationship between currencies, interest rates, sentiment, money supply, global geopolitical picture, global GDP growth, inflation in key countries, leading indicators of inflation, risk appetite, mine production and jeweler demand, smart money actions, speculator actions, and our proprietary technical indicators.
Here are our current ratings that take into account not only the rewards but also the risks. The goal of every investor ought to be to generate high risk adjusted returns, i.e., returns in excess of those commensurate with the risk taken.  These ratings are designed to produce higher risk adjusted returns.  In our over 30 years in the markets, one of the biggest and most common mistakes we have seen investors make is to ignore risk.
Positive in the very, very short-term.
Mild Positive in the very short-term.
Neutral in the short-term.
Mild Positive in the medium-term.
Mild Negative in the long-term.
Positive in the very long-term.
These ratings are reviewed daily and changed frequently to help both long-term investors and short-term traders.  For definitions of time frames, please click here.
Allocation To Precious Metals
From 2007 to 2011, Arora allocation to precious metals was 20% of the portfolio. For those who are inclined to always have gold in their portfolio, a long allocation of 2 – 4% to precious metals from a very long-term perspective at this time is appropriate.
You are receiving less than 2% of the content from our paid services …TO RECEIVE REMAINING 98%, TAKE A FREE TRIAL TO PAID SERVICES.
Please click here to take advantage of a FREE  30 day trial.
Check out our enviable performance in both bull and bear markets.
FREE: SUBSCRIBE TO 'GENERATE WEALTH' NEWSLETTER