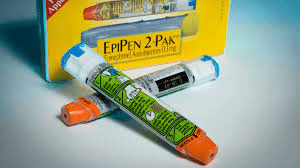 This post was just published on ZYX Buy Change Alert.
MYL is long from an average price of $38.47.  As of this writing it is trading at $38.26.  30% of the full core position size is being held.
This is suitable only for  aggressive investors as the risk of loss is high.
This down leg in the stock is caused by the U. S.  government claiming that MYL has over charged Medicaid for EpiPen.  It appears that the matter is not straight forward and MYL has a strong defense.
The new buy zone is $35 to $38.52.  Consider accumulating up to a maximum of 40%.  Consider adjusting the quantity based on your risk preference.  Mental stop on one-half of the position is $33.23 to $34.18.  The target remains $48 to $49.
You are receiving less than 2% of the content from our paid services …TO RECEIVE REMAINING 98%, TAKE A FREE TRIAL TO PAID SERVICES.
Please click here to take advantage of a FREE  30 day trial.
Check out our enviable performance in both bull and bear markets.
FREE: SUBSCRIBE TO 'GENERATE WEALTH' NEWSLETTER