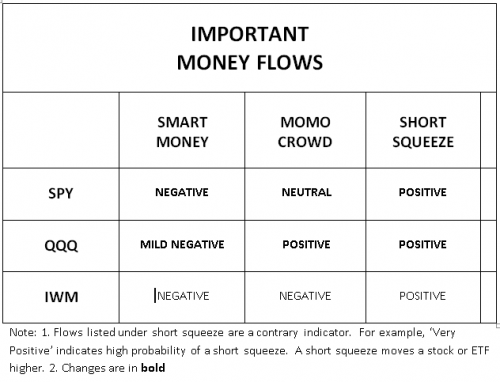 Astute investors want an edge in the financial markets. Money flows, among other metrics, provide an edge. And now the money flows in the U.S. are beginning to shift. Let's explore with the help of two charts.
The charts
Please click here for a chart showing money flows in broad-based ETFs, including the S&P 500 ETF SPY,  Nasdaq 100 ETF QQQ,  and small-cap ETF IWM.
Please click here for a chart of money flows of popular tech stocks, including the "FAANGs." Since those tech stocks have been market leaders, it is instructive to look at money flows in them.
Here are the key takeaways:
• At The Arora Report we dissect money flows into three categories that really matter. These categories are smart money (professional investor) flows, momo (momentum) crowd flows and short squeeze flows. This dissection provides greater insights.
• The momo crowd is often wrong at the turning points.
• The smart money is usually risk-averse and is often early.
• At the beginning of the month, flows in all categories were generally positive.
• A few days ago, smart money flows turned somewhat negative and now they have become more negative.
• Momo crowd flows continued to be overall positive until this morning but are now shifting to neutral to mild negative.
For background, please see "This is what the stock market told us during the most recent dip."
Froth
Lately, the markets, especially stocks and commodities, have become somewhat frothy. As we have been sharing with The Arora Report subscribers in the Morning Capsules, the momo crowd typically has been an aggressive buyer without regard to risk…Read more at MarketWatch
You are receiving less than 2% of the content from our paid services …TO RECEIVE REMAINING 98%, TAKE A FREE TRIAL TO PAID SERVICES.
Please click here to take advantage of a FREE  30 day trial.
Check out our enviable performance in both bull and bear markets.
FREE: SUBSCRIBE TO 'GENERATE WEALTH' NEWSLETTER