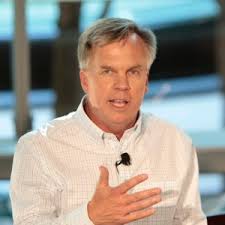 There has always been a debate about who was the real genius behind Apple Stores.  Was it Steve Jobs or Ron Johnson?  Now the debate is settled.  The debacle at J.C.Penney strongly suggests that the real genius behind Apple Stores was Jobs, not Johnson.
Unlike other disciplines, to be a genius in business, one has to be a multi-faceted genius.  There is no doubt that Ron Johnson has demonstrated streaks of genius in some aspects of business, but he has failed at certain essential facets that lead to success in business.
At Apple, Jobs had correctly concluded that he needed his own stores to present his products to consumers in a way that he could not persuade other retailers to do. Jobs recruited Johnson to Apple in 2000 to help build Apple Stores.  Johnson was previously at Target.  Jobs' original vision was to build boutiques that grouped products by category for creative professionals.  Johnson helped Jobs change the vision to design the stores to display products by their use for all consumers.  Johnson is reportedly also the inventor of the hugely successful genius bar.
In 2012, Apple Stores generated $18.8 billion of revenue and $4.93 billion of profit.  The growth has continued unabated.  All one has to do is look at Apple stores' numbers from 2010 when it generated $9 billion of revenues and $2.3 billion in profits.
At J.C. Penney, sales under Johnson fell out of bed, tumbling 32% in the Christmas quarter of 2012 alone.
At Apple, Steve Jobs was widely known for bypassing extensive consumer research…Read more at Forbes
FREE: SUBSCRIBE TO 'GENERATE WEALTH' NEWSLETTER