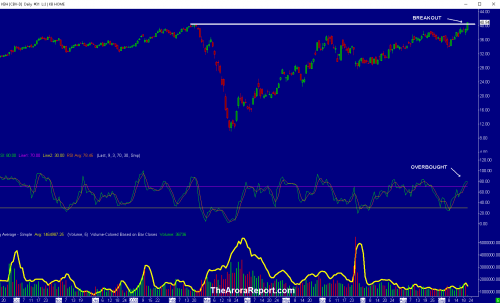 The housing market is red hot. The hottest housing segment is starter homes and this is exactly where KBH is focused.  KBH is long from $16.15.  It has traded at $40.94  after earnings in the aftermarket.
The Chart
Please click here for a chart of KB Homes (KBH).
Note the following:
Technically the stock has broken out.
Going into the close, the stock was running up in anticipation of good earnings.
Earnings were better than the consensus and whisper numbers. Stocks move based on the difference between the reported earnings and the whisper numbers.
In the afterhours, after the initial surge, the stock is showing some weakness.
RSI shows that the stock is overbought.
Zones
For those following the Good Way, the Buy Now rating has been 'YES.'   Due to the risk of this breakout failing, the Buy Now rating is being changed to 'NO.'
For those following the Best Way, the new buy zone is $29.07 to $34.57.
The recommended quantity is 30 – 40% of full core position size.
What To Do Now
Since there is a risk of the breakout failing, those who recently bought, have a shorter term horizon or have not booked profits on other positions, may consider either taking partial profits or raising the stops on at least partial quantity to the stop zone of $37.43 to $38.18.
For those who are holding quantities larger than the recommended position size , may consider either taking partial profits or raising the stops on partial quantity to $37.43 to $38.18.
Those holding the recommended quantity in a highly diversified portfolio may consider continuing to hold.
Those not in the stock may consider following the parameters given above.
This post was just published on ZYX Buy Change Alert.
A knowledgeable investor would have turned $100,000 into over $1,000,000 with the help from The Arora Report. NOW YOU TOO CAN ALSO SPECTACULARLY SUCCEED AT MEETING YOUR GOALS WITH THE HELP OF THE ARORA REPORT. You are receiving less than 2% of the content from our paid services. …TO RECEIVE REMAINING 98% INCLUDING MANY ATTRACTIVE INVESTMENT OPPORTUNITIES, TAKE A FREE TRIAL TO PAID SERVICES.
Please click here to take advantage of a FREE  30 day trial.
Check out our enviable performance in both bull and bear markets.
FREE: SUBSCRIBE TO 'GENERATE WEALTH' NEWSLETTER