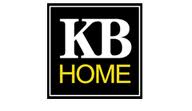 This post was just published on ZYX Buy Change Alert.
KB Home (KBH) stock is long from $16.15. It is trading at $24.35 as of this writing.  KB Home (KBH) is a home builder.
Earnings
Earnings of KBH were better than the consensus and the whisper numbers.  This is why the stock is flying high this morning.
Buyout Target
KBH is a prime buyout target.
Speculation is floating around that American Homes 4 Rent (AMH) stock  is being pressured by the pending merger between Invitation Homes (INVH) and Starwood Waypoint Homes (SFR).  AMH may be looking to buy KBH.  There are other potential buyers for KBH.  As always, there is no guarantee that a buyout will occur.
Rotation
Wall Street is always trying to figure out the next sector that will benefit from rotation.  Recently tech stocks, banks and small caps have benefited from rotation.
Street is now positioning itself for rotation into home builders.
ETF of interest is iShares US Home Construction ETF (ITB).
Zones
For those following the 'Good Way', 'Buy Now' rating is a yes.  There is a high likelihood of a 3 – 5% pullback which may provide a better point to scale in.
For those following the 'Good Way' the buy zone remains $18 to $20.82.
The very long term target remains $30 to $33.
Recommended position size is 30- 50% of the full core position size.
You are receiving less than 2% of the content from our paid services …TO RECEIVE REMAINING 98%, TAKE A FREE TRIAL TO PAID SERVICES.
Please click here to take advantage of a FREE  30 day trial.
Check out our enviable performance in both bull and bear markets.
FREE: SUBSCRIBE TO 'GENERATE WEALTH' NEWSLETTER